Welcome to the June edition of Kirkgate's monthly newsletter. It has been a busy month open again after lockdown and a couple of weeks of glorious weather
June Is Bustin' Out All Over
'June is bustin' out all over' is a love letter to summer from the hit musical Carousel by Rodgers and Hammerstein.
Our own Kirkgate equivalent this June is Funny Girl – The Musical with the marvellous Sheridan Smith (Gavin and Stacey) in the Barbra Streisand role giving 'an unforgettable star turn' (The Times). Following its record-breaking, sell-out run in London's West End and national tour, the critically-acclaimed musical comes to our big screen on 12 June at 7pm (doors 6pm).
Tickets at https://thekirkgate.ticketsolve.com/shows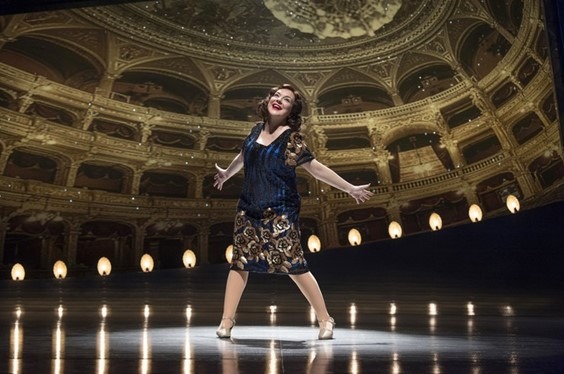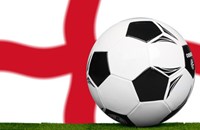 This month at Kirkgate our summer SHINE season is all about turning up the heat, with the footie excitement of the Euros about to kick off. From Saturday 13 June with England's first match against Croatia (doors 1pm, kick off 2pm), there's free entry on match days in the Kirkgate's family-friendly cinema to watch the national team's progress through the contest.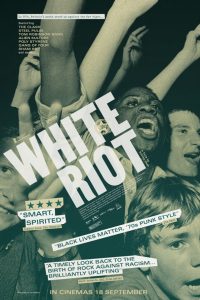 The Monday and Friday films include White Riot (15) (14 and 19 June), winner of Best Documentary, BFI London Film Festival. It's a red hot account of youth culture making a difference. At the centre of the story of the Rock Against Racism movement is 1978's historic, huge anti-fascist carnival in Victoria Park, East London, featuring X-Ray Spex, Steel Pulse, Tom Robinson, Sham 69, Poly Styrene and of course The Clash, whose rock star charisma and gale-force conviction took RAR's message to the masses.
Then we'll be off with actual LIVE music once more. Brilliant singer-songwriter, Whitehaven's own Zoe Warren and her new band, The Little Lies, will be warming us with their unique brand of entertainment on 26 June. These talented West Cumbrians fuse pop-rock to make you want to sing along and dance. With lots of entertaining covers as well as original music, it'll be a bright summer's night of a gig to get the feet tapping again.
Hot on Zoe's heels comes Cockermouth Live! in multiple venues throughout the town over the first weekend in July. Here at Kirkgate we'll be hosting headliners Ian McMillan, Luke Carver Goss, and the Kathryn Tickell Trio with Eden Poets and the talents of our very own Kirkgate Youth Theatre launching our special Dorothy Wordsworth celebrations. More on Dorothy next month!
Details and tickets for everything on https://thekirkgate.ticketsolve.com/shows
Friday Night Is Pizza Night
Our new bar is turning into a delight! We've got pizza AND Shakespeare now. We've teamed up with Carla and Alessandro at Fermento – literally one minute from our famous red door – so that customers at the Friday films can have pizzas delivered straight to their tables in the hour before the start. Fermento pizzas are the real deal – proper handmade Italian pizzas (delicious!) – and with our volunteers standing by to run the gauntlet of Kirkgate corner hot footing it with freshly baked pizzas into the bar (risk assessments have been done!), what better way is there to start the weekend? We're all fed up with our own cooking. Order everything – pizzas drinks, tickets – at https://thekirkgate.ticketsolve.com/shows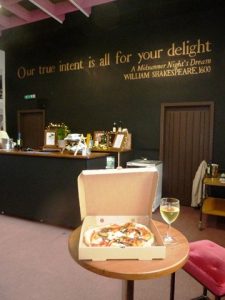 The makeover of our airy ground floor space has continued lately with a little bit of midsummer Shakespeare added to the mix. We commissioned talented Emily Ford, a young illustrator from Hayton near Aspatria, to hand paint a quotation from A Midsummer Night's Dream onto the wall behind the bar: 'Our true intent is all for your delight'. It sums up everything we try to do at Kirkgate, adding to the gaiety of nations.
Good old Shakey. He wrote the Dream in 1600. That really was the Olden Days. After we'd picked the font, Garamond, because it looked so good, we discovered that it had been designed in the 1500s, Shakespeare's time, and is still widely used because of its classic and easy-going beauty. That's Kirkgate all over! Thank you Emily!
A Day In The Life
Each month a Kirkgate volunteer tells us about their life and experience as a Kirkgate volunteer. Chris Gore chairs the group of volunteers who choose our film programme.
Chris and team are tackling the job of programming films again – the first steps we have been able to take to open the Kirkgate up to audiences.
I've been involved in the film group for a little over two years. On the whole, there has been pretty much general agreement about the vast majority of the films chosen recently. The balancing act that the group works under doesn't really allow a great deal of risk taking, and we are all aware of the unwritten rules:
 it's a small community arts centre not a big multiplex;
 but the film choices need to make money to help pay the bills;
 from time to there is a little room for taking risks;
 but not much.
We want to broaden our appeal to attract new film-goers but we also want to please our friendly core audience. We can't keep testing new ideas with a hit and miss success rate. If the right film is available, we know we could (before pandemic) attract an audience of over a 100.
With films not on every night of the week, we are not able to book the new releases from distribution companies the minute they come out. We don't show films daily, partly because the Kirkgate is not just a cinema. There are many other forms of entertainment that also use our auditorium. Partly also as shows are run by volunteers across all aspect of all events, and being dependent on the availability of volunteers, showing more films each week could be difficult. In the main, we show films after they have been out for six weeks. Thankfully, customers seem to like the whole experience of seeing a film at the Kirkgate, on their own doorstep, and will often wait to see it with us and enjoy the night out.
Looking forward, all cinemas are waiting to find out the full effect of films having been streamed online rather than shown in venues during the lockdowns. We are no exception. As an example, we aren't able to show one of the year's Must See films; Promising Young Woman this summer because it was bought by a premium subscription channel and is not available for cinemas – at least not for the moment. Will that apply to other choices from now on? Will it mean that theatrical releases are confined to blockbusters and esoteric or obscure films? Losing the middle ground would not be good for the film industry or the Kirkgate.
Films with prominent actors such as Judi Dench or Colin Firth generally do well at the Kirkgate and, of course, they work in all film genres, blockbusters and small films alike, so we will continue to put on films such with strong lead actors in the hope that we can once again sell out. Keep a look out for familiar faces on our posters!

Colin Firth, a favourite of our cinema audiences! Catch him in 'Supernova' (screening at the Kirkgate in late summer).
Make Us Your Good Cause
Kirkgate Arts and Heritage is a registered charity (look us up on the Charity Commission website to check our Annual Reports and Accounts https://register-of-charities.charitycommission.gov.uk/charity-search/-/charity-details/4040830). We do not get any public subsidy and we have to fundraise and apply for grants to stay afloat and do great work. Any regular donations you give or could give, along with Gift Aid that increases your donation by 25% at no extra cost to you, will help us keep going as Cockermouth and district's community and cultural hub.
There are many ways you can help us with your support.
Coming along to our events is the best way possible!
You can donate here: https://thekirkgate.ticketsolve.com/products/donation
If you would like to set up a regular monthly donation please contact Marion, our chair, at directors@thekirkgate.com
You can join our Friends organisation from £20 a year and get involved in their fundraising events such as Cock Frock and the Great Big Kirkgate Quiz. https://www.kirkgatearts.org.uk/become-a-friend/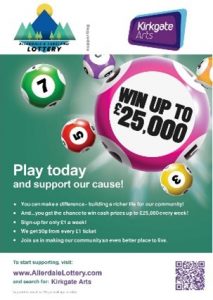 Or – make us your Allerdale and Lakeland Lottery Good Cause!
Allerdale and Lakeland Lottery is a weekly lottery that raises money for Good Causes in Allerdale.
We are one of those Good Causes.
Tickets for the lottery cost just £1 per week. Each ticket has a 1 in 50 chance to win a prize each week, with a top prize of £25,000!
The draw takes place every Saturday and a 6 digit winning combination will be picked. The organisers notify the winner via email. Match all 6 and you win the JACKPOT!
From every £1 ticket you buy, 60p goes to local good causes in Allerdale and improving the community. 50p of that 60p comes to Kirkgate Arts and Heritage if you make us your Good Cause.
https://www.allerdalelottery.com/support/allerdale
Thank you!
Our Cockermouth
This month Joe Fagan, proprietor of The Swan on Kirkgate who has graced our stage during Strictly Kirkgate, writes.
The SWAN is OPEN
A step towards normality, hopefully! It was wonderful to hear the buzz of chatter and laughter from people getting together over a beer/wine here in The Swan on re-opening in mid-May.
I just cannot imagine the Swan having to be closed for so long in hundreds of years. In fact, records show it has been an integral part of Kirkgate community life from the mid-1600s. The Swan remains as a real traditional 'locals' pub at the heart of the community with the community at heart. It is still recognised as a 'Jennings' Pub, the local brewery here in town, and selling the locally produced Bitter (now renamed Night Vision?) and Cumberland Ale (Real Ale).
I have had a close affinity to the Swan, most of my life. My Father drank here as did I from my youth and now I am so proud to be the landlord of this wonderful public house.
Jim, Amanda, Eric, Steve, Renee and myself are the friendly team who look after the fantastic clientele. We have all missed the fun and banter over the last, almost, year and a half, but are now so positive about a healthy future.
Personally, the lockdown was a difficult time, I am happy when I am among people, and I so missed the wonderful company from the cross section of townsfolk and organisations that visited The Swan.
Rotary, Round Table, Over 41 club, Allotment Society, Art Groups and in particular The Mechanics Band, who use the Swan as their unofficial HQ, turned to technology and Zoom for their meetings, but it is now very apparent that face to face meetings are returning.
People call in to The Swan for aperitifs and nightcaps on visiting The Kirkgate Centre for their many and varied events.
I have great memories of taking part in 'Strictly Kirkgate', an offshoot of the ever-popular hit TV show Strictly Come Dancing. Why did I do it? Dad dancing was my limit, but I had a secret wish to dance properly. It was so successful and great fun. This was just one example of the versatility of The Kirkgate and its ability to produce a fantastic programme of events.
You really need to visit The Kirkgate and maybe call in The Swan for refreshments and a crack.
Cheers
Joe
Reflections On Our Cockermouth History & Heritage by Gloria Edwards
Back in the mid-19th century, a workman was digging out a post-hole in land at Embleton, when his spade hit metal. What he subsequently unearthed turned out to be a Celtic sword, dating from around 50 BC, now known as the Embleton Sword. This was an iron sword showing a great level of craftsmanship, decorated with red and yellow enamelling and motifs, and approximately two feet long. It was buried three feet down in a trench being dug in the newly enclosed common. Also found with the sword were three spearheads and another badly-corroded sword. The finds, pre-dating the Roman invasion of this country, raised questions about who had owned them, whether they had been made locally, and whether they might be part of a larger burial hoard, since the decorated sword was found still encased in its bronze scabbard.
The finds were taken to be put on display in Peter Crosthwaite's museum in Keswick and were the star attractions for several years, until the museum was closed and the contents sold off, mostly to private buyers. The Embleton Sword, and the other finds, were bought by the British Museum in 1870. For many years the sword was on display in a glass cabinet in the Romano-British section of the Museum. A few years back when visiting the British Museum, I was hoping to be able to view the sword close up, but was disappointed to discover it is no longer on display. After reorganisation this important find was sent to languish in the vaults.
However, the Heritage Group is fortunate to have a fine, steel replica of the Embleton Sword, made by three apprentices in Workington at British Steel back in the 1980s.
Letter From The Chair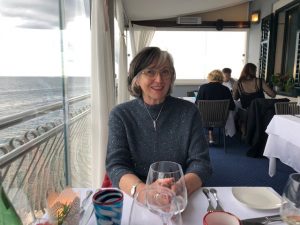 I'm feeling a bit of a media star at the moment. Twice in the past week I've been interviewed about Kirkgate's SHINE summer re-opening on BBC Radio Cumbria. Did you hear me? If not, I wouldn't be surprised so I forgive you. The first time was on Bank Holiday Monday afternoon – it was SCORCHIO. Everybody was out perspiring on the patio. I would have been too but it was quite pleasant sitting in a cool, darkened room inside the house talking on the phone to presenter Simon Yaxley for 20 minutes. The second time was at 7.30am last Friday and if you had the kettle coming noisily up to the boil for your morning cuppa, you'd have missed me chatting away with Mike Zeller about Friday Night now being Pizza Night at the Kirkgate. Still, it's great that our local media have noticed our light shining at the end of the pandemic tunnel here in the Kirkgate Quarter!
We continue to have to limit the numbers we can safely accommodate. It's table service-only at the bar, which is actually rather nice – thank you dear volunteers – and there's a LOT of social distance between the seats we can let customers occupy in the auditorium. Face masks are still to be worn. But on we go, and with actual LIVE entertainment starting with Zoe Warren and The Lads on 26 June, we're feeling optimistic.
Keep safe, keep on with your good habits of Hands, Face, Space, get your two jabs and when the day comes that we can fill every single one of our 120 seats, we'll celebrate in style! Come what may, we want you to have a good time with us – it's all for your delight!
Thank you for your continued support.
Marion Bowman