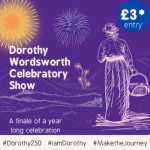 3rd July 2022 2:45pm (Doors open at 2:00 pm)
Kirkgate Theatre
A finale of a yearlong celebration
What's on? Exhibitions from 2pm include: -The Dorothy Wordsworth Light Sculpture (created by Artfly*) -The Giant Dorothy Pixel Portrait (created by the school children at Fairfield school, led by Artfly*). -The Dorothy Wordsworth Exhibition (created by the Heritage Group) -Youth Theatre "Sparkles of Light": An exhibition of photographs from their performance in December 2021.
*Artfly will also be here to talk about their projects while you enjoy a drink from our bar.
Live Show from 2.55pm
-Opening with a collaborative performance by local actors Toby Gaffney and Emma Rydal. Inspired by the school children's creative writing at Lorton and St Joseph's primary schools. You don't want to miss this! -The 'Make the Journey' film, with live poetry readings from individual journeys. -Live music from 'Seven Sisters', inspired by Dorothy Wordsworth's journal. As well as a performance by 'Quickbeam', featuring Keith Snell's photography. -Finishing with a special thanks to all who have been involved and engaged with the project -Thank you!