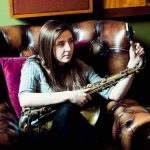 27th November 2022 7:30pm (Doors open at 6:30 pm)
Kirkgate Theatre
Award winning saxophonist and composer Emma Johnson is a Leeds based musician and the bandleader of Emma Johnson's Gravy Boat. Emma's music has been played on BBC Radio 3 and her writing has been described as 'a relaxed, melodic and distinctive style of contemporary jazz'. With her group, Emma received the Peter Whittingham Award to record her debut album Worry Not, which was released in July 2021. Gravy Boat are now setting off on a national tour at the end of the year to perform the album music live in cities across England.
Regarding her playing, a recent review in Bebop Spoken here noted: 'Johnson gets a great sound on tenor and has a technique to match. Not one of those in your face players but someone whose solos build gradually and logically, with a natural lyricism reminiscent of Coltrane.'
A versatile musician, Emma has worked with musicians such as Easy Life, Gregory Porter, Olly Murs, Clare Teal and Los Campesinos! and performs across the UK and internationally with a number of bands.
Emma also has her own horn section, and has arranged and performed on releases for bands such as Happy Daggers, Neon Dolls and most notably Fold, who's tracks are played regularly on BBC Radio 6 Music.
Emma Johnson's Gravy Boat are a cinematic, melodic jazz quintet based in Leeds, led by saxophonist and composer Emma Johnson. The group won the Peter Whittingham Award to record their debut album, Worry Not, which was released to great acclaim in 2021 and described as 'an exciting prospect indeed' by Jazzwise. Since then, they've completed a national tour, welcoming audiences returning to live music with stories, warmth and melodic, spacious compositions that allow each band member to shine.
Johnson is currently working on new music, as a recipient of Lancaster Jazz Festival's Evolve Commission for 2022, and the band have plans to release more music and tour further afield in the next 18 months.