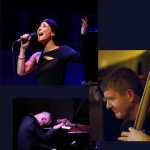 28th April 2024 7:30pm (Doors open at 6:30 pm)
Kirkgate Centre
'An extraordinary talent.' Jo Whiley -BBC Radio 2
Winners of the prestigious Jazz Album of the Year at the 2023 Parliamentary Jazz Awards for "When Winter Turns To Spring"a perfect blend of originals and timeless perennials framed by Paul Edis' elegant arrangements, Jo Harrop and Paul Edis will be joined by virtuoso double bassist Ken Marley.
Jo will be performing songs that touch on the idea of nature and the trials and tribulations of the heart, taken from her catalogue of albums Weathering The Storm, The Heart Wants, and When Winter Turns To Spring. "Of course, there will also be a liberal sprinkling of some of the ageless seasonal classics that have formed the soundtrack of my life, taking the audience on a journey that goes from Autumn In New York all the way through to You Must Believe In Spring."
Jo will also unveil some songs taken from her highly-anticipated new studio album recorded at The Village Studios, Los Angeles with legendary producer, Larry Klein, best known for his award-winning work with a long list of iconic artists that includes Joni Mitchell, Madeleine Peyroux and Herbie Hancock.
Jo Harrop
Born in Durham and raised on a potent musical diet of Aretha Franklin, Ella Fitzgerald and Nina Simone, Jo Harrop moved to London and quickly established herself as one of the most unmistakable voices to emerge from these shores in many years.
Having signed to London-based jazz label, Lateralize Records, she recorded her debut solo album, The Heart Wants. A sublime suite of songs about love and life, about losing and then finding oneself in the silence after the applause has faded away, The Heart Wants received unanimous critical acclaim and climbed to the upper echelons of the US Jazz Albums Charts.
With an achingly beautiful chocolate and cream voice that sends a shiver down your spine every time you hear her sing, it's no surprise that Jo Harrop has received a raft of rapturous reviews and attracted a host of influential fans since she first burst into the spotlight a few short years ago. "She is a very fine jazz singer," Iggy Pop recently gushed. "When she sings, she moves me."
Jo Harrop is represented by Lateralize Records and Hampstead Jazz Club Presents.
@joharropmusic
YouTube Videos
Everything's Changing – YouTube
https://www.youtube.com/watch?v=_uEK4N9z0lg
Wise Words – Live at Cadogan Hall
Line Up
Jo Harrop – Vocals
Paul Edis -Piano
Ken Marley – Bass
Paul Edis (MD/Piano)
Described as 'One of the leading lights in contemporary jazz' Paul Edis is a natural melodist who finds the emotional resonance of every note. Rooted in the straight-ahead swinging tradition, his music has been played on the radio in the UK, US and Europe.
'A brilliant young pianist.' The Guardian, Blurring the boundaries between Bill Evans, Brad Mehldau and Claude Debussy.
Ken Marley (Double bass)
Originally from the Northeast, virtuoso double bassist Ken Marley completes the trio.