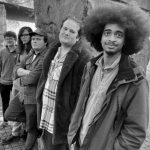 17th December 2023 7:30pm (Doors open at 6:30 pm)
Kirkgate Centre
Oppgard is a versatile Jazz collective based in the north of England, performing a mix of original pieces composed by founding members of the group, as well as a mix of standards and more from across the wide spectrum of Jazz. Every member who plays with the band brings with them a unique take on the band's repertoire, making every performance a unique experience. Taking influences from Wayne Shorter, Kenny Garrett and Kurt Rosenwinkel, and inspiration from Japanese Jazz, Afro-Cuban and many other genres from around the world, leads to a rich cultural mixing pot for the listener to enjoy.
The band has appeared at various venues on the Leeds Jazz scene including Sela Bar and Hyde Park Book Club, with other notable performances including playing to a packed crowd during the Cockermouth Live! Festival in 2023.
Jess Moore, Per Alexander Fossheim Johansen and Guy Bathgate created the group with performance line-ups including Joseph Frost-Tesfaye, Jarred Dean, Thomas McEwen, Cameron Conn and many others.