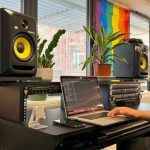 8th August 2022 10:00am
Kirkgate Theatre
Horizon Studios & The Kirkgate centre have teamed up to offer an opportunity for young people to learn the basics of music production, recording, DJ'ing & lyric writing.
A unique experience to work alongside industry recording artists. Come and learn, from the experts, how you can get started on your musical journey.
This week long workshop is suitable for 12-18 year olds, eligible participants (invited local school children) have been given a code to enter in the promotion code box to unlock the bookings for this workshop.
For more information contact chloe@thekirkgate.com