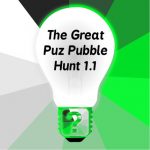 21st May 2022 6:00pm (Doors open at 5:00 pm)
Kirkgate Theatre
After the Launch of this innovative games night last year we have given the very first Puz Pubble Hunt a grand overhaul and made all the adjustments we think were needed to make up the latest, greatest, new improved version.
We now need a brand new set of teams to play the game and test it out before we make the jump to Puz Pubble Hunt 2.0. This is where you come in!
What is a Puz Pubble Hunt?
A head scratching, mind bending, light bulb inducing evening's entertainment made for people who love puzzles, competitions, escape rooms and quizzes. Teams will battle it out to be the first to follow the clues and puzzles to reveal the password of victory.
What do I do to get involved?
Simply make up a team of 6 people and book your team a place on this event, and we'll make up your team's puzzle pack ready for the evening.
What should we bring?
Glad you asked! You will definitely need your smartphones, maybe a few pencils and pens and even a set of earphones if you have them. The bar will be open to stop y'all from getting thirsty so maybe a few quid, or your debit card, for that too!
Rise to the challenge, and gather ye your teams!