A specially commissioned artwork representing Dorothy Wordsworth is to be part of the town centre Christmas lights in Cockermouth, Cumbria. The 'Portrait of Dorothy' is being switched on at a major outdoor event on November 21.
The portrait is a light installation that will stand on a temporary plinth in the middle of Cockermouth's Main Street near Wordsworth House where Dorothy was born on Christmas Day 250 years ago.
'Dorothy is Cockermouth's most famous daughter,' said Emma Heys, the General Manager of Kirkgate Arts and Heritage, the charity which has commissioned the art work as part of a year-long 'I Am Dorothy' celebration project.
'We wanted to do something really special for our townspeople in her 250th year and to shine a light on this amazing woman.'
'She collaborated with her Poet Laureate brother, William, and was a key influence on him. But William wasn't the only writer in the Wordsworth family. Dorothy's diaries and journals still inspire us to love the natural world and the beauty and physical challenges of the Lakes. Her values resonate in these times of climate change and loss of bio-diversity. Their childhood years in Cockermouth laid the foundations for the poetry and prose they both wrote and which are still loved around the world.'
ArtFly, the Ulverston-based art practice of husband and wife team Chris and Jennie Dennett, were commissioned to design and make the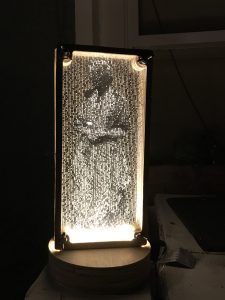 installation.
'There are very few portraits of Dorothy so we know her best through her words,' said Chris Dennett. 'That inspired us to create her image using her journal entries and poems, with each letter varying in size to form a pixel of the image.
'She's then been laser-etched onto Perspex sheets and up-lit with LED lights so as you move in front of the sculpture a 3D portrait of Dorothy is revealed – a woman in words.'
The work is based on a photograph of Jessie Binns of Greysouthen, near Cockermouth, Senior Programming and Partnership Officer at the National Trust in the North Lakes. She posed in period dress, drawing on a painting of Dorothy that is part of the Wordsworth collection at Rydal Mount near Ambleside, owned by the current generations of the Wordsworth family.
The 3D portrait is held together by a wooden frame shaped like a flower press and stands on a plinth woven from Lakeland willow and hazel from Sprint Mill, Burneside, near Kendal, and Bouth near Ulverston. Both woodlands are managed using sustainable coppicing. The laser etching into the Perspex was done by Furness Plastics in Barrow with material used widely for see-through screens since the Covid-19 outbreak.
Children's Warhol-style portraits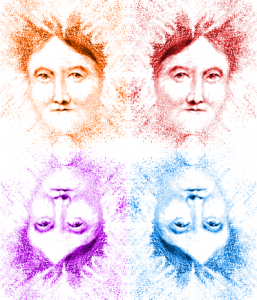 'It's been a really original Cumbrian collaboration, very much in the spirit of Dorothy,' said Emma. 'She is still inspiring artists and writers down the centuries. We recently brought ArtFly to Fairfield Primary School in Cockermouth to work with Year 4 and 6 children on their own 'I Am Dorothy' art work. Around 120 children took part and produced 4 stunning, large-scale pixel portraits of Dorothy.'
'Each child had a unique, post-card sized, digitally-designed sheet that they put stickers on, featuring local wildlife such as bats, owls and hedgehogs, with Lakeland wildflowers,' said Jennie Dennett. 'Then when each child put their card onto the large board, the portraits started to come together. As the children could see how it was all taking shape, they got really excited with dancing, clapping and football-style goal celebrations. It was delightful that the children knew of Dorothy Wordsworth and got so engaged with this mass participation art work.
'The whole project is really novel and it's beautiful that Cockermouth, which is always at risk of terrible flooding in the winter, will have something so special to remember Dorothy by, especially on her birthday this Christmas.'
The children's 'I Am Dorothy' work, draws on the styles and techniques of American artist Andy Warhol, French artist George Seurat (pointillism) and the digital innovations of computer graphics and pixelation. It will hang in the charity's venue, the Kirkgate Centre, and after this year, ArtFly's Main Street installation will be displayed nearby at Christmas at Wordsworth House and Garden.
The main funder of the project is the National Lottery Heritage Fund with the support of Cockermouth Town Council and others. 'We're really grateful to National Lottery players for helping make this wonderful project happen. We owe thanks also to our collaborating organisations, National Trust, Rydal Mount, the Town Council and their contractor for the Christmas lights, Eric Nicholson,' said Emma.
Kirkgate Arts and Heritage will be running more 'I Am Dorothy' artistic activities for children next year and adults are encouraged to 'Make The Journey' of Dorothy's life from her birth in Cockermouth to her death in Rydal. Kirkgate's specially commissioned film can be seen here: https://www.youtube.com/watch?v=ky7-cf3dgJo