A new exhibition opening in Cockermouth next week (October 26th) relates the fascinating history of the Strawberry How site, a location well-known to generations of the town's schoolchildren.
The Story of Strawberry How is being presented by Kirkgate Arts and Heritage at the town's Kirkgate Centre from Wednesday, October 26 to Sunday, October 30 (11am to 4pm daily, closing early at 3.45pm on Saturday 29th, to allow for another event).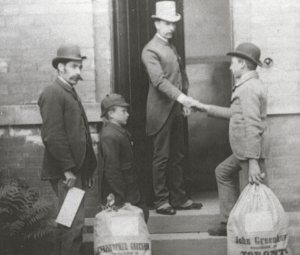 A purpose-built complex of buildings opened at Strawberry How in 1881 as the Cockermouth Industrial School for Boys, certified to accommodate up to 150 boys, aged 6 to 13, in its first year.
Following its closure in 1921, the site housed the Cockermouth County Secondary School and then, following the 1944 Education Act, Cockermouth Grammar School through to its closure in 1991.
It was then converted to residential accommodation, which remains its current use.
Gloria Edwards, from Kirkgate Arts and Heritage, said: "The boys who entered the Industrial School came from other parts of the country, as well as Cumberland. They were boys seen to be in need of being set back on the straight and narrow.
"We relate the memories of one such boy from London, making use of his first-hand account dictated to his daughter in later years.
"When the Industrial School closed, there was great debate about alternative uses of the building but the eventual choice was as a county secondary school. Some of the pictures to be shown are of young men from around 1936, who must surely have been called up to fight in World War II.
"That school evolved into the County Grammar School with the 1944 Education Act and we are pleased to be able to put on display many of the framed sports team photographs rescued when the school was closed, together with photograph albums of pupils over several years, produced by teachers Jock and Marjorie Southgate, both well-loved by pupils.
"We also delve into Derwent School's history, the school opening in 1958 in the building we now know as Cockermouth School."
Admission to the exhibition is free and refreshments are available.
ENDS
NOTES TO EDITORS
Kirkgate is a charity based in Cockermouth, Cumbria.  It operates an arts and heritage centre as well as working with towns and villages in West Cumbria to encourage a diverse programme of arts, culture and entertainment.  Its vision is to ensure that creative talent is valued, developed and supported with opportunities for all to engage actively with, and enjoy, the arts, local heritage and community life.
The Kirkgate Centre brings the best cultural, theatrical and entertainment events to Cumbria. From the best feature and documentary films to live streaming of top London shows, to local talent, heritage exhibitions, music, theatre, comedy and more, there is something for everyone.
In the historic Kirkgate Quarter of the Gem Town of Cockermouth, sitting on the edge of the Lake District National Park, the Kirkgate Centre is the perfect venue for special occasions, conferences, meetings, courses, exhibitions or private film screenings.
Kirkgate manages Arts Out West which stages performances in community venues from Furness to the Solway, ranging from nationally-recognised theatre companies to international musicians with events that are as much a social occasion as a performance.  It is a member of the National Rural Touring Forum supported by Arts Council England as a National Portfolio Organisation.
Follow @kirkgatearts on Twitter, Facebook and Instagram
For more information:
Emma Heys m. 07919 178284 l: 01900 829966
The Kirkgate Centre, Kirkgate, Cockermouth, CA13 9PJ