Welcome to the August edition of the Kirkgate newsletter.  We are looking forward to a busy and happy August – we have so much on as the summer reaches its peak.
Peter Rabbit lollops into the Kirkgate
What a surprise! Peter Rabbit, the naughtiest rabbit in Cumbria, visited us in July to kick off the school holidays. Peter popped in to give out the prizes in the colouring competition that we ran alongside our week-long screening of his latest film, Peter Rabbit 2. Mr McGregor was nowhere to be seen, thankfully!
The talented arty winners of the competition were:
Scarlett Swift (most creative use of colour- over 6)
Caitlyn Rowson (neatest colouring- over 6)
Violet Oxley (neatest colouring- under 6)
Isabelle Matthews (most creative use of colour- under 6)
Willow Robinson (special prize for 'most Peter Rabbit' of all the entries)
Afternoon film shows
Film fans! We're running Tuesday Matinee shows at 2pm for movie-goers who are happier to keep up with 2m social distancing. The matinees will continue throughout August and September.
These screenings complement our normal Monday and Friday film nights – and remember that Friday night is Pizza Night!  Partnering with original Italian pizza makers Fermento in Market Place, we'll deliver pizzas for you to enjoy with your drinks in our bar before the film. Contact Fermento on 01900 826655 to place your order and don't forget to mention Kirkgate to have it delivered.
Films coming up and not to be missed are:
Frankie 13 August
Three generations of a family gather for a holiday in the stunning Portuguese town of Sintra. In this fairytale setting, they grapple with family dynamics, from tensions to loving bonds. Starring cinema superstar Isabelle Huppert, with Marisa Tomei and Brendan Gleeson.
Kajillionaire 16, 17 and 20 August
Con artists Theresa (Debra Winger) and Robert (Richard Jenkins) have spent 26 years training their only daughter, Old Dolio (Evan Rachel Wood), to swindle, scam, and steal at every opportunity.
The Father 23, 24 and 27 August
With an Oscar-winning performance from Anthony Hopkins and starring Olivia Colman, Mark Gatiss, Imogen Poots, Rufus Sewell, and Olivia Williams, this is a stunningly creative drama following an ageing man dealing with memory loss.
Supernova 30, 31 August and 3 September
In locations close to Cockermouth, Colin Firth and Stanley Tucci play Sam and Tusker, who have been partners for 20 years. After receiving the heart-breaking news that Tusker has early-onset dementia they give up their jobs and set off on a countrywide tour in an old campervan, visiting friends, family and places from their past.
Live! Real, entertaining human beings! On a stage near you!
Our ARTS OUT WEST shows are restarting soon in village halls up and down West Cumbria. After the lockdowns, the venues are tentatively opening their doors and so far, we've booked acts for Beggar's Theatre (Millom), Rosehill Theatre (Whitehaven), Gleaston Village Hall (Ulverston), and The Settlement (Maryport). The performers who're touring do everything from dance to circus skills. They'll have your heart racing and your eyes out on stalks – just the thing to shake out the Covid cobwebs in your imagination! www.kapowdance.co.uk www.clementineslivearts.co.uk
At the Kirkgate in Cockermouth we will have two outstanding, popular local bands on our stage this month. We're so pleased to be hosting these Kirkgate favourites who can guarantee a great evening out with live music.
The Coast Road and Wild Chorus 15 August
Pecker 21 August
Find out what's on and get your gig, Arts Out West and film tickets at https://thekirkgate.ticketsolve.com/shows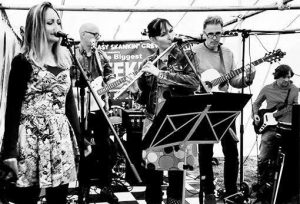 Kirkgate's fresh take on street markets
Kirkgate Summer Market is our innovative showcase of Cumbrian creative talent, in All Saints car park outside the Kirkgate Centre.
The first outing for the market, on 7 August, was a fabulous mix of stalls selling original, quirky and lovely, mostly hand-crafted, goodies, live music, Pimm's, and, indoors, our community café and our two new local history exhibitions.
The next market is on 21 August from 10:00-16:00. A vibrant alternative to the more traditional street markets, with a handpicked selection of artisans, artists, designers, ceramicists and musicians, Kirkgate Summer Market offers the chance of a different vibe but still – of course – the all-important Raffle!
Kirkgate is pleased to be supported by Allerdale Council and Arts Council England for this wonderful new event for Cockermouth, Allerdale and Cumbria.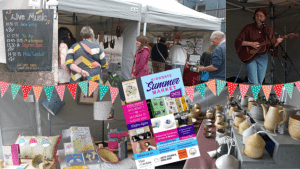 National Lottery players' funding for 'I Am Dorothy'
The National Lottery Heritage Fund has awarded us a major grant to support our new year-long project celebrating the life and values of Dorothy Wordsworth, born 250 years ago in Cockermouth.
The project was launched last month with our Make The Journey event. Along with the Eden Poets, we are challenging people to travel by as environmentally-friendly means as possible from Dorothy's birthplace at Wordsworth House on Main Street to Rydal Mount near Ambleside, where she died. You can see the special film we commissioned below and post your accounts of your journey and creative writing using #Dorothy250, #MakeTheJourney, #IAmDorothy or #NationalLottery @kirkgatearts
Everyone making the journey can claim a free drink in the café at Rydal Mount by giving the secret code words Tramper's Badge (a phrase taken from Dorothy's journals describing a Cockermouth woman she had met).
Next up is the Summer Exhibition at the Kirkgate Centre celebrating Dorothy and our town which Gloria Edwards writes about below.
The Summer Exhibition is supported by the National Lottery Heritage Fund and Arts Council England, with our thanks going to National Lottery players for their part in making these free events possible.

Kirkgate History and Heritage by Gloria Edwards
Kirkgate's heritage focus this month is on Dorothy Wordsworth and the town that she would have known as a small child. It forms the heart of our free Summer Exhibition.
There's so much here still that Dorothy would recognise: her former home Wordsworth House, the Castle, Norham House, the long sweep of Main Street (then known as Below Bridge).
Standing alongside her brothers, Dorothy might have watched through the window a colourful procession that took place on Monday 3 February, 1777, as reported in the Cumberland Chronicle.  This was the annual parade of the town's wool-combers and shalloon weavers (shalloons being a rough type of woollen cloth), in honour of their patron saint Bishop Blaize.  Such processions happened in other northern towns too where the wool trade was important.
Like most events in Cockermouth it was accompanied by a 'grand band of music', with figures on horseback as well as 70 workers from the wool trade:
"Walking two and two, elegantly dressed in white, having on large high Caps and Sashes, made of blue and red Wool, neatly platted, each Cap having the figure of the Golden Fleece on the front …"
In the Wordsworth family's time South Street was known as Back Lane, and there was no Station Street until the coming of passenger rail services in 1865 – buildings had to be demolished to make a way through for the new road.  There would have been two major buildings in the 18th century known to the Wordsworth family – the Moot Hall in Market Place and the Fletcher family's Old Hall in what is now the Market Place car park, both no longer standing.
The Moot Hall was a meeting place, the administrative heart of the town, and the Fletcher family hosted Mary Queen of Scots at the Old Hall for one night in 1568 after she fled Scotland across the Solway to throw herself on the mercy of her cousin Queen Elizabeth I.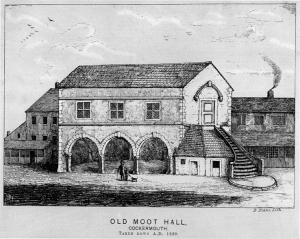 Our free exhibition gives a fascinating insight into the Cockermouth of Dorothy's time and its formative influence on Dorothy and her brother William, along with a second display, on the Royal Market Charter, awarded 800 years ago to Cockermouth by King Henry III. The exhibition runs until 21 August (every day 11 – 4, closed on 15 August).
To contact the Heritage Group and explore heritage volunteering email heritage@thekirkgate.com or volunteers@thekirkgate.com
A Day in The Life
The volunteering feature this month is from Stephen Walker, an enthusiastic supporter of Kirkgate across the board, including helping us source our wonderful Cumbrian beers.  We currently serve Loweswater Gold, Ennerdale Wild and Ennerdale Seven Bridges.
Stephen writes:
Originally from Wallsend, I have moved from one end of Hadrian's Wall to the other, via Oxfordshire. I have lived in Cockermouth since 2005. As well as Kirkgate, I am involved with several other community groups and I run a whisky club that meets monthly at The Swan.
Within Kirkgate, I am Chair of the Operations Group, box office volunteer, Front of House volunteer and Band Champion. This latter post is the one I enjoy the most. I meet the musicians who visit Kirkgate, look after them and then act as Compere for their performances.  As part of the role, I have been involved in suggesting artists who I think would be well received by our audiences and from this have met musicians that I greatly admire, especially within the folk fraternity. This role has helped me gain confidence as a public speaker as I stand on stage in front of a full house and introduce the artist.

Due to my knowledge of local breweries as a member of CAMRA, my role has recently expanded to sourcing beers for the bar, giving me the opportunity to enhance my negotiating skills, getting good deals for our customers.
I recently contacted a lot of the musicians who've played the Kirkgate to see how they were getting on in lockdown. They were really pleased to know we cared, and sent some amazing testimonials:
I remember fondly our time at the Kirkgate a couple of years ago, the warm and intimate atmosphere and the friendly welcome.
Kiki Dee
The Kirkgate is my ideal venue. Intimate and warm, staffed by passionate folks who really care about The Arts and about their local community. It has a beating heart, even more so due to the eager enthusiastic volunteers who help run it.
Snake Davis
My husband and I are internationally touring, award-winning singer-songwriters based in Canada. We had the wonderful opportunity of performing an acoustic concert at the lovely Kirkgate during one of our UK tours. The Kirkgate remains one of our favourite stages and venue spaces. A lovely atmosphere and acoustics. The sound system was good and the theatre manager made sure we were well taken care of. The venue is absolutely gorgeous and is a key geographical location for artists en route from Manchester to Glasgow.
Tia McGraff
FARA had a fantastic experience performing at the Kirkgate as part of our Christmas 2018 tour. The staff were wonderful and the venue itself was beautiful.  We were fortunate enough to have a sell-out show. The atmosphere was incredibly positive.
Kristan Harvey and FARA 
We love the Kirkgate and I have booked artists into your lovely venue for years –   through floods and pestilence!                     Terry O'Brien (Playpen Management and Agency / English Folk Expo)
We thoroughly enjoyed our visit to Cockermouth and had a great evening at the Kirkgate, the venue and staff were fantastic. We look forward to returning sometime in the future.
Kevin Morris and Dr Feelgood
What a beautiful venue Kirkgate in Cockermouth is. I played there with my band in 2018, the final night of our tour. It's a really lovely place to play with great sound and a lovely vibe. It feels warm and welcoming for musicians and audience alike.
Rachael McShane & The Cartographers
If you want to join our team and volunteer with us please email volunteers@thekirkgate.com Everyone is trained and given lots of support.
Make Us Your Good Cause
As well as volunteering, there are many ways you can help us with your support. Coming along to our events is the best way possible!
You can donate here: https://thekirkgate.ticketsolve.com/products/donation
You can join our Friends organisation from £20 a year and get involved in fundraising events such as Cock Frock and the Great Big Kirkgate Quiz. https://www.kirkgatearts.org.uk/become-a-friend/
Or – make us your Allerdale and Lakeland Lottery Good Cause.
Tickets for the lottery cost just £1 per week. Each ticket has a 1 in 50 chance to win a prize each week, with a top prize of £25,000.
From every £1 ticket you buy, 60p goes to local good causes in Allerdale and improving the community. 50p of that 60p comes to Kirkgate Arts and Heritage if you make us your Good Cause.
https://www.allerdalelottery.com/support/allerdale
Thank you!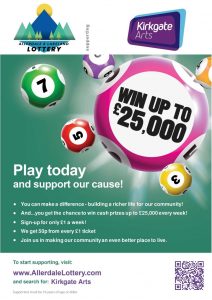 Our Cockermouth
Each month we hear from a member of the wider Kirkgate Quarter family.  This month, Susan Seekings of Dachshund Vintage Interiors in Market Place tells us her Cockermouth story: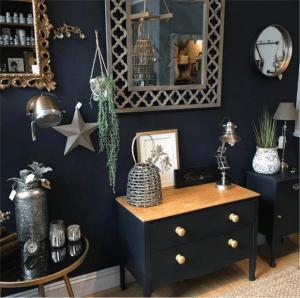 We came to live in Cockermouth from the North East 8 years ago and quickly settled into country life. I soon joined an upholstery class at Bassenthwaite Parish Room and immediately realised that I was hooked on reupholstering. So after a couple of years I couldn't fit any more chairs in the house and this led me to doing vintage fairs and makers' markets, which went really well but I still had a house full of stuff and a dining table constantly covered in fabric and tacks!
I always loved Market Place and one day I noticed a vacant shop at number 21. I signed the lease ready to move in when Storm Desmond struck and the town was devastated by flooding once again. My plans were put on hold as I was asked, and agreed, if traders affected by the storm could use the property.
As some traders started to return back to their own properties I was able to move into 19 Market Place, which is now Goodness and Grain. It was a little small as I needed retail and workshop space, but at least I was able to start trading. After a few months I got the keys for 21 and have been there for 5 years. The shop allows me to have a workshop to reupholster, reuse and upcycle furniture, and the retail unit provides space for gifts including a new range of sustainable, bamboo homeware. I also stock Autentico paint, which is environmentally friendly and contains natural pigments. There's a choice of 130 colours to upcycle vintage furniture which might otherwise be discarded, giving it a new lease of life and a new home.
Market Place is hidden gem, with great established businesses, new and unique traders and wonderful pubs and restaurants. We all support each other and it is great to see everyone back up and running.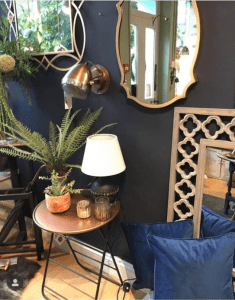 Letter From The Chair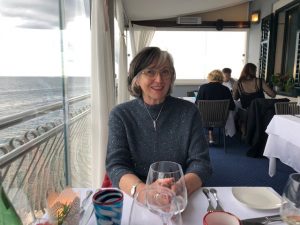 Since we began to re-open to the public in May, the staff, volunteers and trustees have had a very busy time despite continued furloughing of key members of the team for parts of each month.
The enforced closures of lockdown since March last year presented lots of administrative and financial challenges but, with very little public-facing activity to manage, there were also opportunities to get quite a lot done behind the scenes.
Fixing a significant leak in the roof and doing the Egremont Room makeover were a couple of them! We were also able to spend more time working on a lot of unglamorous but essential backroom processes, from updating IT to simplifying our book-keeping.
We welcomed a new Company Secretary, Rob Higgins, who is a great addition to the governance team, helping me as Chair to keep Board decision-making moving forward, not just fire-fighting.
A small group of us had spent the winter months working with a consultant funded by the National Lottery Heritage Fund on reviewing our business model and long-term objectives, looking at options for the organisation's future. That work was paused while we re-opened in stages, but we are now picking it up again with an 'Away Day' planned in September (all the way to Bothel village hall).
We aim to get to the position where we have new long-term plans for both our facilities and what we do in them, attracting new customers and participants while continuing to serve our loyal regulars. This kind of process is essential for refreshing a charitable business such as ours at key stages in its evolution. Where future success depends on capital improvement works too (as ours does), funders, donors, sponsors and supporters need to see that a solid case is being made for the investment, the fundraising we need to do, and the business sustainability and social impact benefits it will bring.
We have taken the exciting step of advertising to fill two new posts, a General Manager and a Community Projects Officer. Whoever we recruit as General Manager in particular will be key to what happens next. If you are interested in this development you can see the recruitment pack on our website here: www.kirkgatearts.org.uk/about/job-vacancies And watch out for a new website too – that's something else we are currently working on!
I hope to see you soon at one of our events – we try to ensure there's something for everyone.
Marion Bowman