Welcome to #Kirkgate's February newsletter. We're excited to let you know that we're having a lot of shiny new windows installed at the Kirkgate Centre!
Windows on our quirky Kirkgate world
The 13 specially made windows will grace the ground floor Egremont Room – the shape-shifting community space that works its socks off as a café/bar/exhibition hall/private party venue/business meeting room/exercise studio/rehearsal room/late-night cabaret club – whatever you want, it's for hire! For more on hiring our unique, selection box building contact Katie@thekirkgate.com.
To celebrate our latest upgrade, this month's newsletter features our own more-important-than-ever-now window cleaners, J. A. Lee, as Our Cockermouth business. For more on the new windows, see our Chair's letter at the end of this KQC.
WHAT'S ON – MUSIC
Friday, 18 February, 8pm The Paul McKenna Band
'The best folk band to have come out of Scotland in the last twenty years' New York Times. Don't miss the latest of the brilliant Scottish bands, who guarantee a great night at #Kirkgate, on the last date of their tour.   Book here!
Sunday, 27 February 7.30pm The Zoe Gilby Quartet JAZZ@KIRKGATE
Vocalist, lyricist and songwriter, Zoe's engaging and atmospheric music draws on jazz and contemporary composers, with double bassist Andy Champion, guitarist Mark Williams and drummer Richard Brown. Tickets here!
Friday, 4 March, 9pm Open Mic
Everyone's welcome at our monthly cabaret style Open Mic nights. Entry is free. First Friday of every month.
Saturday, 12 March, 8pm Leveret
A chance to hear three of England's finest folk musicians, Andy Cutting (button accordion), Sam Sweeney (fiddle) and Rob Harbron (concertina).Their relaxed performances combine consummate musicianship and compelling delivery. Book here!
Film
The Kirkgate cinema shows the weekly film on Mondays 8pm, Wednesdays 2pm (socially distanced seating, and subtitles) and Fridays 7pm. Friday night is also Fermento Pizza Night, with piping hot, freshly made deliveries to the Kirkgate bar from the Market Place eaterie. Order direct with Fermento on 01900 826655 once you've bought your film ticket. Carla and the team at Fermento are taking a well earned break during March, so fill up on those tasty treats now! They will be closed on the 4th, 11th and 18th March.
Coming up:
14 – 19 February Spencer (12A) – starring Kirsten Stewart as Princess Diana
21 – 25 February The Alpinist (12A) – an extraordinary adventure film capturing an elusive young Canadian solo climber in the peaks of Patagonia
28 February – 4 March Mothering Sunday (15) – a passionate period drama starring some of British film's biggest names: Colin Firth, Olivia Colman, Josh O'Connor and Glenda Jackson
7 – 11 March Tick Tick BOOM! (12A) – a dazzling performance by Andrew Garfield as the young composer of RENT, the show that revolutionised Broadway musicals.
Special Events
9 February 8.30pm Poets Out Loud – a relaxed evening for lovers of poetry, on the second Wednesday of every month. Free entry.
Streaming event – National Theatre Live
17 Feb 7pm The Book of Dust: La Belle Sauvage by Philip Pullman – the gripping story of Lyra Belacqua set 12 years before His Dark Materials.
Tickets here.
26 February 7pm David Gaffney 'Out of the Dark' book launch – David will read from his latest novel, as well as holding a Q&A session over drinks in the bar.
Book here.
10 March 2pm Local History Illustrated talk 'Cockermouth's Industrial Past, the Mills of Cockermouth' – with Eric Cass from our Heritage Group sharing his extensive local knowledge.
Book here.
Arts Out West
Dommy B's Best Adventure Ever!
An exciting, interactive show for children 5+
12 February 2pm Brigham Memorial Hall (Contact the venue directly for remaining tickets)
14 February 2pm Whitehaven Library Book here.
Bulley and MacKenzie
Scottish Acoustic Folk Duo playing Bluegrass, Gypsy Jazz, Folk and Pop with harmony-led songs alongside driving and fiery instrumental virtuosity.
25 February 7.30pm Ullock Village Hall
26 February 7.30pm Ravenglass Parish Hall
27 February 7.30pm Maryport Settlement
Online tickets here, or contact the venues directly.
These Hills are Ours
Runners Dan and Boff decided to follow a series of routes from the centre of the city in which they found themselves to the top of the peak overlooking the city.
This is the story of what they found out – about the relationship between city and country, between wild and controlled, about land ownership, about why we're drawn to wild places – and what we're really running from.
The show presents stories by Dan and songs by Boff, interspersed with conversation between them and with the audience. A celebration of place and local pride, it's a show for the 'good night out' audience – warm, funny, friendly.
11 March 7.00pm Kirksanton Village Hall
12 March 7.30pm St Bees Village Hall
13 March 1.30pm The Gather, Ennerdale
Online tickets here, or contact the venues directly.
A Day in The Life
Volunteer of the month is Richard Majewicz, a member of our Safety and Maintenance, and Capital Developments Groups. A qualified architect, Richard generously contributes his professional knowledge and skills free of charge, helping to improve the Kirkgate Centre and keeping it safe and in good working order.
Richard has been central to the installation of our new windows. He writes:
I moved to Cumbria in 1988 to work in a private architectural practice in Maryport after four years of local authority work in Scotland. Soon afterwards, I became a founder member of the Maryport and District Civic Society and through that I met Peter and Barbara Colley. It's over 25 years now since the Colleys and others fought to save the Kirkgate, previously the old All Saints' School, from demolition and to convert the building into the grand little theatre and activity space that it still is today.
I began volunteering, first with Oxfam in Keswick, then later, with my interest in cinema and music, and a desire to meet like-minded local people, I was drawn to the Kirkgate, taking up volunteering as one of the front of house teams. In addition I was able to offer my architectural experience to assist with funding bids for proposed extensions and development of the building which ultimately, unfortunately, were not successful. I've also been part of the committees dealing with ongoing improvements to the building that have been possible as well as its maintenance and servicing, and I'm involved in the new strategy for further capital improvements and developments.
Whilst I continue to be available for virtual meetings I have had to remain in lockdown for health reasons since the start of the pandemic and so am unable to continue my front of house duties. My main task over the past year has been providing the technical specifications and advising on the bids from contractors for the new Egremont Room windows.
I feel immensely privileged to be associated with the Kirkgate and it was always heart-warming to hear artists and visitors alike praising not only the atmosphere generated by the building and its audiences but also the work of the volunteers.


You can see a little film with some of our volunteers here:
https://www.youtube.com/watch?v=RNKX24goO2M
If you would like to get involved as a volunteer, please contact us on volunteers@thekirkgate.com
As well as volunteering, there are many ways you can help us with your support. Coming along to our events is the best way possible!
You can donate here.
Become a Friend of Kirkgate
You can join our exclusive Friends organisation from £20 a year to enjoy various benefits while supporting us.
Free ticket exchange if you book tickets and are unable to attend
Priority invitations to special events
Occasional newsletters updating you on future plans and new developments at Kirkgate Arts and Heritage.
Join here.
Kirkgate History and Heritage
We're looking forward to celebrating the Queen's Platinum Jubilee in June when people of the town will come out to play.  Such community events are still as important today as they were in the past, when parades and celebrations provided a welcome break from the toil of everyday life.
In this part of the world the tradition of travelling shows and circuses was a massive crowd-pleaser.  George Biddall brought his famous 'Biddall's Ghost Illusion' show to Cockermouth in the 19th/early 20th century, setting up on the town's Fair Field (now Sainsbury's car park).  Indeed, it was in his caravan on the Fair Field that George died in 1909 after a serious illness.  There is a surviving, short piece of film of his funeral, when crowds lined the streets to see him taken to Cockermouth Cemetery.  It is reported that William Cody (Buffalo Bill), touring the country with his Wild West show, attended the funeral.
George's monument in the Cemetery is the largest one there, standing within sight of what was then the Cumberland Industrial School (now the Strawberry How apartments and houses).  George had a soft spot for the inmates of the school, for whom he held free performances whenever he was in town.  A performer in George's 'Ghost Illusion' show was a clown called Bingo (aka John Moncrieff), who described George as a 'thorough gentleman and highly esteemed'.  Poor Bingo ended his days in the Whitehaven Workhouse at the age of forty-nine, a sad ending for a clown.
Another visiting circus show in the late 19th century was Lord John Sanger & Sons.  Founded in 1837, it was described as 'the only travelling establishment that has been commanded by Her Majesty the Queen to appear at Windsor Castle'. There was a large procession through the streets of Cockermouth with the many animals they had brought with them, including lions. One of the highlights of the show was an 'Elephants versus Clowns Football Match' – Mr Jimmy Ritson agreed to compete against Sanger's Centre Forward Elephant 'as to which can kick the most goals out of five tries'.  Sadly, we don't know the outcome but it would surely have drawn large crowds.
We are planning a special exhibition for the Queen's Platinum Jubilee so if you have any photos or memorabilia of previous celebrations locally of Her Majesty's reign, please contact us on heritage@thekirkgate.com.
Gloria Edwards

Biddall's ghost mask!
Promotional material for Sanger's Circus.
Sanger's Circus procession
To get involved with the Heritage Group email heritage@thekirkgate.com or volunteers@thekirkgate.com
'I am Dorothy' on the move…
A class of excited Cockermouth school children followed Dorothy Wordsworth's life's journey from Cockermouth to Dove Cottage, Grasmere, as part of our 'I Am Dorothy' project supported by The National Lottery Heritage Fund.
On a special trip last month, we arranged for All Saints' Primary School Year 6 children aged 10 and 11 to travel through the Lake District to the cottage that Dorothy and William Wordsworth shared and where they both wrote their most famous works of poetry and prose.
The following day back at school the children worked on their own creative writing with the theme 'Dear Diary'. They were inspired by the famous Journals of Lakeland life and her adventures in the fells that Dorothy Wordsworth wrote while helping brother William with his poetry.
Meanwhile, the 'light sculpture' of Dorothy that we commissioned for Cockermouth town centre's Christmas lights has now taken up residence in the National Trust shop window at Wordsworth House, Main Street, the very house where she was born 250 years ago. Cockermouth's most famous daughter is still shining her light during the dark nights of February. Don't miss her!
And don't miss our exhibition about Dorothy and what Cockermouth was like in her time: it can be seen at Cockermouth Library, Main Street, until early March and then will tour to Kirkstile Village Hall, Dean (with a weekend viewing 10am-4pm with refreshments over the 11th to 14th March), and moving on to Blindcrake Village Hall, Prospect Village Hall in Wigton, Plumbland Village Hall and Yew Tree Village Hall in Lorton.
Dorothy shining in the window at Wordsworth House.
Part of the Dorothy Exhibition, now in Cockermouth Library.
Our Cockermouth
Each month we hear from a member of the wider Kirkgate Quarter family. This month, because we are celebrating our new ground floor windows, we are showcasing our very own window cleaners J. A. Lee. Here's founder Andrew Lee with their story:
I started the business when I left Cockermouth Grammar school aged 16 in 1980 and we have been cleaning windows in Cockermouth and throughout Cumbria ever since. I was a sole trader to begin with but we built up the business and we now employ 10 full-time window cleaners and three administration support staff. Our base is at Lamplugh outside Cockermouth.
We clean all types of property, from small residential houses to large industrial sites. We do a lot of schools, hospitals, and hotels including Centre Parcs near Penrith and as well as cleaning windows, we do specialist work like gutter cleaning, cleaning solar panels, pressure washing and high level cleaning jobs that sometimes involve abseiling.
We've been cleaning the windows at the Kirkgate for 15 years and are always keen to support local community initiatives and businesses like the Kirkgate Centre. I do follow the Centre and have attended many events over the years. I hope you keep up the excellent work and local community input the Centre makes for many years to come.

Letter From The Chair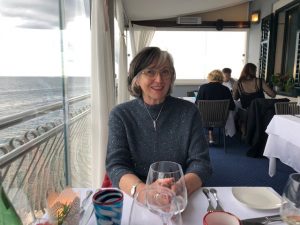 It was recently Village Halls Week and I was pleased to have a letter published in our local paper, thanking the volunteers at all the village halls, libraries and community centres involved in Arts Out West (over 25 of them!). We've been running Arts Out West with them for more than a decade.
In West Cumbria, our local talent and travelling professionals alike are greatly supported by the many Arts Out West volunteers who ensure that arts, culture and entertainment get put on in tucked away places right on people's door steps. It's a problem if people have to travel for hours to have a great night out. Arts Out West solves that problem – people can just walk to their local hall!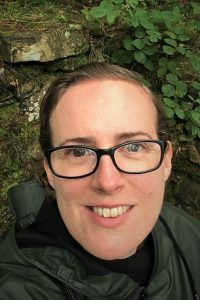 Arts and culture wouldn't thrive without such volunteers and so I'm particularly pleased to welcome a new volunteer who's just joined the Kirkgate Board of Trustees and Directors. She's Helen Hardy, who has family connections in Cumbria and currently works as a manager at the Natural History Museum in London. Helen is going to be a big help as we develop our plans for the Cockermouth and district local history collection of which KAH and our Heritage Group are the custodians.
Alongside volunteers are the all-important funders. Arts Out West is supported by Arts Council England, Cumbria County Council and Copeland Community Fund. We've had generous donations for the new Egremont Room windows from several sources, among them the National Lottery Awards for All, the Hadfield Trust, and Lord Egremont of Cockermouth Castle. The room was named after Lord Egremont's late mother who supported the conversion of the old All Saints' School to become the heart-warming place that it is today, as our volunteer of the month, Richard Majewicz, puts it.
We still need £6,000 to complete the windows budget, so if you would like to make a donation please drop me a line at directors@thekirkgate.com
We're very grateful to all the organisations and individuals who help us celebrate the creativity and heritage of our West Cumbrian people and places.
Marion Bowman