A very Happy New Year to you from the #Kirkgate team.
After the carols and Christmas songs, Auld Lang Syne and the Vienna New Year Concert, we want to keep the tempo up with a tuneful and KEEP MUSIC LIVE start to the year.
We feature Cockermouth music legend Billy Bowman; we launch our new jazz evenings; and we put the spotlight on our new Open Mic nights.
We're sad that the Kirkgate isn't packed to the rafters for Cockermouth Amateur Dramatic Society's usual Panto (featuring Ugly Sisters Covid and Corona?) but we know they'll be back next year. Oh yes, they will!
It's a shame CADS's youngsters aren't getting to tread our boards but in the meantime, we were really impressed with our Youth Theatre's Christmas show Sparkles of Light, inspired by Cockermouth's very own Dorothy and William Wordsworth. Well done to all the young performers.




Images used with kind permission from Chris Lewis Photography
New Year music box
Saturday, 15 January, Red Rum Club
We start with a gig that sold out within two days! And all in a good cause: the charity Music Venue Trust is running the National Lottery's 'Revive Live' Tour supporting live grass-roots music venues such as #Kirkgate. We're thrilled to be part of it. https://www.redrumclub.com/
Sunday, 23 January, 7.30pm The Jeremy Sassoon Quartet JAZZ@KIRKGATE Next up – the first in a new series of jazz performances. In-demand singer/pianist Jeremy Sassoon brings his evocative jazz, blues and soul style to town. With a cabaret atmosphere, seating is limited so book early for this special night of top class musical entertainment. Tickets here.
Friday, 4 February, 9pm Open Mic
Playing at the Kirkgate's always been a great way to take the first steps on stage and 2022 could be your year! If you're a budding performer, or just enjoy making and supporting live music, come along to our monthly cabaret style Open Mic nights. Entry is free. First Friday of every month.
Friday, 18 February, 8pm The Paul McKenna Band
'The best folk band to have come out of Scotland in the last twenty years' New York Times.
Don't miss the latest of the brilliant Scottish bands who guarantee a great night at #Kirkgate, book here.
Sunday, 27 February 7.30pm The Zoe Gilby Quartet JAZZ@KIRKGATE
Vocalist, lyricist and songwriter, Zoe's engaging and atmospheric music draws on jazz and contemporary composers, delivered in the company of double bassist Andy Champion, guitarist Mark Williams and drummer Richard Brown. Get your tickets here.
For more music into the spring check our website https://thekirkgate.ticketsolve.com/shows
Film nights for you
And film afternoons too! The Kirkgate cinema shows the weekly film on Mondays 8pm, Wednesdays 2pm (with subtitles and socially distanced seating) and Fridays 7pm. Friday night is also Fermento Pizza Night, with piping hot, freshly made deliveries to the Kirkgate bar from the Market Place eaterie. Order direct with Fermento on 01900 826655 once you've bought your film ticket (click on a title to book).
Coming up:
Week of 10 January My Little Sister (15)
Week of 17 January The French Dispatch (15)
Week of 24 January Herself (15)
Week of 31 January Almost Liverpool 8 (12)
Week of 7 February Passing (12A)
Special Events
Streaming event – Saturday, 29 January 7pm
LEOPOLDSTADT filmed live at the National Theatre – Tom Stoppard's Olivier award-winning new play, a passionate drama of love, family and endurance.
Tickets here.
Friends of Kirkgate Fundraiser – Saturday, 26 March 7.30pm (doors 6.30pm)
(This event has been re-scheduled to this new date in light of the current covid infection rates.)
THE GREAT BIG KIRKGATE QUIZ – Quizmaster and actor Toby Gaffney of Coronation Street and Theatre by the Lake fame returns to bamboozle us with a myriad of brain teasing rounds. Let's hear it for the Friends of Kirkgate who do all the hard work running the event. Thanks people!
Up to six in a team, but it's a friendly affair so join a table if you don't have a team to go with. Tickets £7 per person here: https://thekirkgate.ticketsolve.com/shows/873629247
A Day in The Life
Every month we feature a volunteer. This month, it's songbird Andy Semple. Andy is a member of Kirkgate's Board of Trustees and company directors. He's also an enthusiast for live music so is now part of the music programming group of volunteers who select the bands and musicians to play at Kirkgate. He can sometimes be found singing and playing himself at our monthly Open Mic nights. He writes:
Growing up, I had two "big brothers" who introduced me and inspired me to listen to music I would otherwise never have heard of. One, Alex, was real and the other was the BBC radio DJ John Peel. Both led me to a lifelong love of Led Zeppelin and June Tabor, acts that did not appear on any of the three TV channels we had then. I hope I live to see the day when Robert Plant and June collaborate at the Kirkgate on the Battle of Evermore.
For it is dreams such as these that make me do the labour of love as a Kirkgate music volunteer. Back in the real world at New Year I saw Talisk perform on the flagship BBC Scotland Hogmanay show, backing Claire Hastings on Auld Lang Syne. Were it not for the Kirkgate I would never have heard of Talisk, but I saw them there a few weeks ago. It turned out to be one of the best gigs I have ever been to!
As a volunteer on the music programming team, I am safe in the hands of like-minded people who have the love of music and the desire to share it widely: to be the big brothers and sisters that put that strange looking LP cover on your shelf and say 'come and look and listen'.
Our current task is to shape the programme for the coming year and into 2023. The good thing is that you can suggest a combo without fear of public humiliation or someone putting you right on the pronunciation of Gillian Welch's name (my ambition is to get the Torpenhow Trio on air). We are currently working on the new jazz offering at the Kirkgate. I confess that's a genre that no relation real or imaginary has turned me on to in the past. But I have a new big brother now – the Kirkgate. Or should that be sister? Or better – I have a new family.
Since my mum gave me a guitar at Christmas when I was 15, it has been the gift that keeps on giving. I have collaborated with talented, inspiring people ever since and that's why I love the Kirkgate.


Andy regularly joins in with our new Open Mic, on the first Friday of every month, as a performer and an avid listener. Here he's moving so fast he's just a musical blur!!
You can see a little film with some of our volunteers here:
https://www.youtube.com/watch?v=RNKX24goO2M
As well as volunteering, there are many ways you can help us with your support. Coming along to our events is the best way possible!
You can donate here.
Become a Friend of Kirkgate
You can join our exclusive Friends organisation from £20 a year to enjoy various benefits while supporting us.
Free ticket exchange if you book tickets and are unable to attend
Priority invitations to special events
Occasional newsletters updating you on future plans and new developments at Kirkgate Arts and Heritage.
Our Friends members also raise funds to support the organisation – they are often the best fun to be had in town, from themed Disco nights to our Cock Frock fashion sales or the Great Big Kirkgate Quiz. If you would like to suggest and organise a fund-raiser, or get involved as a volunteer, please contact us on volunteers@thekirkgate.com.
Kirkgate History and Heritage By Gloria Edwards
Music is an integral part of many people's lives, and that is certainly true in Cockermouth.  Today we have the Mechanics Band in demand for all those events that bring townspeople together, whether it be Carol Services, Carnival parades, commemorative events such as Remembrance Sunday, or simply performing in concert.  This particular band, formed way back in the 19th century, is still going strong with Conductor Sarah Cannon and you don't have to be a mechanic to join! https://www.cockermouthmechanics.com/
Music was obviously considered important in the development of young men's minds at Cockermouth's Industrial School, opened in 1881 on Strawberry How (it closed in 1921 and the buildings later became the Grammar School, then today's Strawberry How apartments).  The school had its own band, and the boys, placed there as being in need of strict discipline and training to set them back on the right path, performed regularly in town events.
Another band long since disappeared was the Cockermouth Borough Band, certainly in existence before the outbreak of World War I, when many of its players went off to fight in France, some never to return. In February 1777 a 'grand band of music' led the annual parade of the Woolcombers and Shalloon Weavers, at a time when the wool trade was extremely important to the town.
People have played and sung music through the centuries as a communal activity, and that tradition continues.  Why not come along to the Kirkgate and sample some of the music on offer in 2022, including the new Jazz @ Kirkgate sessions?
Mechanics Band 1953
3 boys from the Industrial School Band
Borough Band from just before WWI
Boys' Brigade bugle
To get involved with the Heritage Group email heritage@thekirkgate.com or volunteers@thekirkgate.com
Our Cockermouth
Each month we hear from a member of the wider Kirkgate Quarter family. This month, in honour of the great Cockermouth music legend Billy Bowman (no known relation to the Kirkgate Chair, Marion Bowman) we are venturing out of the Quarter over the Cocker Bridge, along Main Street and into Lowther Went. Janet Osborne, Billy Bowman Jr's daughter who now runs the famous Billy Bowman Music shop, takes up the story:
My Dad, Billy Bowman Jr, opened the shop in 1983. He had a passion for music from the age of 15 when he joined his father's dance band.  He can get a tune out of most instruments and is still playing and entertaining today at the age of 86.  Being a passionate musician, his ambition was always to own a proper music shop and here we are today! Billy used to give woodwind lessons in the shop and it is amazing to see all the youngsters growing up and developing into confident musicians playing at a high level in bands, studying music at university or just enjoying playing. Occasionally my grandson Taylor Stables (a budding bass player) helps out. He's only 14 but really enjoys doing it. I think it's a good experience for youngsters, it gives them the confidence and skills to relate to all ages.
The shop is an Aladdin's cave for all musicians, would-be musicians or simply music lovers.  We stock top brands and a wide range of keyboard. brass, woodwind and stringed instruments, all of which are available on our popular 'Try Before You Buy' scheme.
Our friendly staff, all musicians themselves, are here to help. We have Scott Miller, a very accomplished pianist and viola player who also tunes pianos. Arthur Hill plays piano, bass, guitar, mandolin, and even had a go with an accordion. All our staff can tune and play a variety of instruments to some extent even if it's not their main instrument.
The ukulele has been one of the biggest surprises – it has gone from strength to strength, especially amongst the older generation. It's such an easy instrument to play and great fun, when you join a club/group, or so I'm told!
As for famous customers, well, we have had a few: Lenny Henry visited the shop whilst with his then wife Dawn French who was filming in the area. Jason Orange from Take That has visited, and Howard Goodall, composer of the themes to Blackadder, Red Dwarf, QI and others.
One of my favourite famous customers was Colin Firth who hired a digital piano for several weeks whilst recently filming in the area. We were sworn to secrecy as to where we delivered it!
The things I like most about running a music shop are the people we meet, enjoying the crack, an impromptu jam session with customers, and the huge grin on children's faces (and some adults') when they get their first instrument.
The Bowman family, synonymous with music in Cockermouth for generations! Top left shows Billy Snr band 1932, left to right: Tommy Stoddart on drums, Tommy Robinson on banjo, Billy Snr on accordion, Ralph Denwood on violin and Auntie Florrie on piano, taken in the public hall, Station Street, Cockermouth where Dominos and Costa are today. Bottom right is Billy Snr on accordion, Billy Jnr on drums, Florrie, as everon piano, Alf Stephenson on sax, Robert McHendry on trumpet. Taken at a barn dance in a broiler house at Bootle in the 1960's.
Letter From The Chair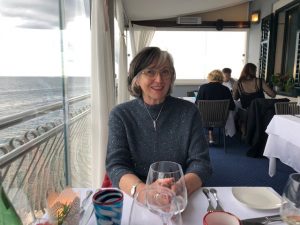 Well, we managed to have a Christmas in 2021, but the surge in Covid cases due to Omicron has challenged Kirkgate yet again.
So far, there has been no government mandated lockdown (which would come with very welcome financial support) – Plan B puts most of the burden on individuals and organisations to decide how to control the spread of infection in the face of staff sickness, customer caution and the strains on businesses. Our small staff do a lot of their work from home and our volunteers are still willing to do their shifts. We are open, but ticket sales are down. So I want to reassure customers that we always do everything we can to keep you safe, from requiring mask wearing to doing regular cleaning and ventilation, from our one-way system to the chance for socially distanced seating.
We are keeping calm and carrying on having fun – and we hope you'll have some with us too. As we have some great offerings this month and on into February and March, please check out what's on and come along. We will look after you and, as you know, being entertained is so good for us all.
Happy New Year!
Marion Bowman