Welcome to the July edition of the Kirkgate newsletter.  What a busy and exciting month June was. July and August are going to be amazing as the summer hots up!
Coming up – something for everyone
What's your bag? Live music, the year's best films, keeping the kids entertained in the holidays, a fascinating outdoor challenge, new shopping experiences? We have it all. New for the school holidays – every day next week we're screening the latest family favourite Peter Rabbit 2 at 11am (July 19 – 24). Book your show tickets at https://thekirkgate.ticketsolve.com/shows
Kirkgate Summer Market
Also new, we're thrilled to announce the Kirkgate Summer Market, a unique showcase of Cumbrian creative talent, in All Saints car park outside The Kirkgate Centre on 7 and 21 August from 10:00-16:00. A vibrant alternative to the more traditional markets, with a handpicked selection of artisans, artists, designers, ceramicists and musicians, Kirkgate Summer Market offers the chance of a fun day out.
Our popular Community Café will return selling hot and cold drinks as well as savoury and sweet light bites.  And there will be a PIMMS bar – what better way to celebrate the summer!
Whilst shopping for presents and treats for yourself you will be entertained by local musicians and singers. Why not join in? There will be open mic slots available, just turn up and put your name down.
Kirkgate is pleased to be supported by Allerdale Council for this wonderful new event for Cockermouth, Allerdale and Cumbria.  We are also working with Etsy Cumbria and EVAN/WCAN and the Producers of City Showcase: Markets (Embankment Summer Market and Soho Flea Market). Kirkgate Summer Market is the latest in Cockermouth's 800-year history of street markets as featured by Gloria Edwards in her regular newsletter article below.
I Am Dorothy, Cockermouth's most famous daughter
During Cockermouth Live!, the town's annual quirky festival weekend in July, we launched I Am Dorothy – our new year-long celebration of the birth 250 years ago on Main Street of Dorothy Wordsworth, poet, diarist and early environmentalist.
At Wordsworth House and Cockermouth Castle, Kirkgate Youth Theatre's budding actors presented their take on Dorothy and brother William's childhood relationship.
We premiered the new film we commissioned, 'Make The Journey', featuring Eden Poets, a collective of Cumbrian women poets, challenging people to explore the route from Dorothy's birthplace at Wordsworth House in Cockermouth, to the place where she died at the age of 83, Rydal Mount in the heart of the Lake District. The film can be seen on our You Tube channel, simply click here. At the Kirkgate Centre event on July 4 the poets read new work they've been inspired by Dorothy to write, with local singer-songwriter our own Katie Gentry setting one of the poems to music. Watch out for details of more #IAmDorothy events over the months to come. Get outdoors, make the journey, engage with nature, be creative and be more Dorothy!
The project is being funded by the National Lottery Heritage Fund, Allerdale Borough Council, Cockermouth Town Council, Metalcraft Ltd, The Slater Trust and the Ashley Family Foundation, with support from the National Trust, Wordsworth Grasmere, Rydal Mount and Eden Poets.
Everyone making the journey can claim a free drink in the café at Rydal Mount by giving the secret code words Tramper's Badge (a phrase taken from Dorothy's journals describing a Cockermouth woman she had met).
Football came home to the Kirkgate
by Hugh Brodie
Several families from Cockermouth u10s Football team recently watched England at the Kirkgate in one of their matches on their way to the European Cup Finals.  We are so glad we did. Entry was free, the venue was fantastic, pizza from Fermento delicious, staff so welcoming and the kids had an absolute blast watching their first big game on the big screen in a safe and secure Covid-free environment.
Some quotes from the kids: 'Best night ever!' 'Fantastic!' 'Awesome!' and parents: 'Brilliant idea to have a family-friendly venue where kids can still enjoy the game together in their football bubbles', 'Relaxed and fun', 'Really welcoming atmosphere'.
It has been brilliant watching England go from strength to strength and get the whole community involved. To reach the final was a huge achievement for the national team and inspirational for the youngsters.
We will definitely keep an eye on what's coming up to attend more events or book the whole venue in the future!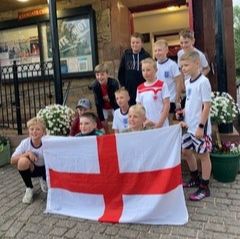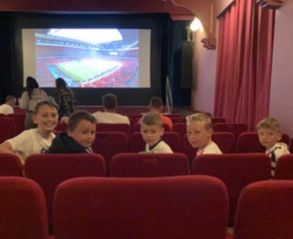 Kirkgate's fresh take on street markets
Kirkgate Summer Market is our innovative showcase of Cumbrian creative talent, in All Saints car park outside the Kirkgate Centre.
The first outing for the market, on 7 August, was a fabulous mix of stalls selling original, quirky and lovely, mostly hand-crafted, goodies, live music, Pimm's, and, indoors, our community café and our two new local history exhibitions.
The next market is on 21 August from 10:00-16:00. A vibrant alternative to the more traditional street markets, with a handpicked selection of artisans, artists, designers, ceramicists and musicians, Kirkgate Summer Market offers the chance of a different vibe but still – of course – the all-important Raffle!
Kirkgate is pleased to be supported by Allerdale Council and Arts Council England for this wonderful new event for Cockermouth, Allerdale and Cumbria.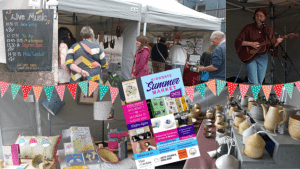 Kirkgate History and Heritage 
by Chair of the Kirkgate Heritage Group Gloria Edwards
As well as Dorothy Wordsworth's birth, this year marks another special anniversary – 800 years since Cockermouth was awarded its Market Charter, meaning it could hold a regular market just outside the walls of Cockermouth Castle.  King Henry III granted the Charter in 1221, originally for a Saturday market, and then a few months later it was changed to a Monday market.  It remained as a Monday market until recent times.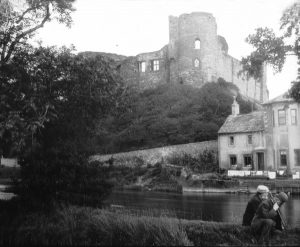 Back then, today's Market Place would have been the beating heart of the growing town.  There would literally have been a gate on Castlegate, and another on St Helen's Street (St Helen's Gate), and possibly one at the bottom of Kirkgate.  People from all around would bring all kinds of everyday staples to the market to be sold (food, crops, wool, leather, etc.) and they would have had to pay a toll to do so.  That money went to the Lord of the Manor.  But before each market could begin, the Market Bell (still in its niche in the wall today) had to be rung by the skavander (or scavenger).
If you ignored that, you might end up with a fine – or worse.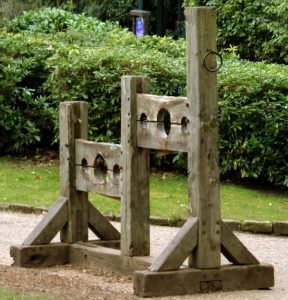 People were employed to check the quality of items being sold (e.g. bread) and to ensure that items weren't being sold outside the market place area.  If you want to find out more about what went on in our Market Place, put 7 – 21 August in your diary, because there'll be a display on the Market Charter running at the Kirkgate Centre most days, alongside a new exhibition on Dorothy Wordsworth's Cockermouth, part of our I Am Dorothy project.
To contact the Heritage Group and explore heritage volunteering email heritage@thekirkgate.com or volunteers@thekirkgate.com
A Day in The Life
Each month a Kirkgate volunteer tells us about their life and experience as a Kirkgate volunteer. Penny Lees is a key member of the Kirkgate Communications Group and an enthusiastic bartender. Penny is also secretary of Cockermouth's University of the Third Age www.cockermouthu3a.org.uk .
Although not a Cumbrian I have lived in the Cockermouth community for more than 40 years. I brought up my family here and am now welcoming the return, albeit temporarily, of one set of grandchildren to enjoy all it offers. Hopefully involvement with Kirkgate activities is about to increase from this family at least!  Kirkgate's screening of the film Peter Rabbit 2 is certainly on my radar to simplify one childcare day!
I have always tended to support the organisations that I am involved with beyond just being a member, be it tennis committee, u3a trustee, school governor, or encouraging communities to thrive. My father was very much a people person and unable to say 'no' when things needed doing, so I should have learned…
At The Kirkgate my voluntary input over quite a few years has been across a range of activities and I currently assist marketing operations, bar services and front of house duties welcoming the audience and ensuring they enjoy the range of entertainment. It certainly can keep you busy doing something worthwhile, as time allows, before normal life service resumes post-Covid. I have particularly enjoyed Friday Night Pizza Night.  Enjoying a drink and pizza in Kirkgate's Egremont Room bar with other volunteer friends has been great.
The involvement of volunteers at Kirkgate can span a range of tasks to enable safe, efficient and cost-effective operations.  Many jobs take place out of the public eye behind the scenes, covering a myriad of tasks – most of which I cannot begin to name! I am aware that the glasses used in the bar miraculously get washed and replaced by someone …
In fact, everybody is likely to be useful and welcome volunteering to help at Kirkgate, though lion taming might be a step too far! I would encourage any member of the community who would like to see the Kirkgate continue as our fantastic local community hub and entertainment centre and grow strong, to come forward and see how you can help make it happen. Email volunteer@thekirkgate.com
Make Us Your Good Cause
As well as volunteering, there are many ways you can help us with your support. Coming along to our events is the best way possible!
You can donate here: https://thekirkgate.ticketsolve.com/products/donation
You can join our Friends organisation from £20 a year and get involved in their fundraising events such as Cock Frock and the Great Big Kirkgate Quiz. https://www.kirkgatearts.org.uk/become-a-friend/
Or – make us your Allerdale and Lakeland Lottery Good Cause!
Tickets for the lottery cost just £1 per week. Each ticket has a 1 in 50 chance to win a prize each week, with a top prize of £25,000!
The draw takes place every Saturday and a 6 digit winning combination will be picked. The organisers notify the winner via email. Match all 6 and you win the JACKPOT!
From every £1 ticket you buy, 60p goes to local good causes in Allerdale and improving the community. 50p of that 60p comes to Kirkgate Arts and Heritage if you make us your Good Cause.
https://www.allerdalelottery.com/support/allerdale
Thank you!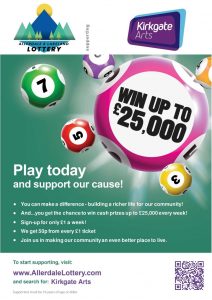 Our Cockermouth
Each month a member of the wider Kirkgate family tells us about their Cockermouth.  This month Alessandro and Carla of Fermento https://www.fermentoweb.co.uk tell us about life in Cockermouth.  Kirkgate is working with Fermento on our 'Friday Night is Pizza Night' which is continuing through July – what could be better than a beer and a pizza and a fantastic movie!  We love our Kirkgate community and love the way we all support each other.

It was 4 years ago when we arrived in Cockermouth – to everyone asking why we relocated to beautiful Cockermouth, we always say 'it was our cat's decision!'
We started dreaming about opening our own place together a couple of months after we started dating, but then never found the right place at the right time. We had almost given up when we left our hometown, Modena in Italy, to go and live in London as Alessandro found a great opportunity to work there as a baker. It didn't take long for us to realise that city lifestyle doesn't really suit us so we decided to relocate to the Lakes – fate wanted that the first place we would find to rent that would allow us to bring our beloved cat, Stella, with us was in Cockermouth.
"Why not – we thought – the town is lovely, we will stay here for a while and explore the area".
Alessandro started baking for the Cockermouth Country Market, which is where we started to realise how friendly the community in Cockermouth is. One thing led to another until we came to see the premises in Market Place, almost as a joke, when we realised it was not just the perfect place at the right time, but was also in the right town!
We decided to call it Fermento (ferment) as in Italian it's not just used to refer to the fermentation process of bread, wine or beers. 'Essere in fermento' (to be in ferment) means changing, evolving, possibly into something better.
It is how we always looked at our business, a family kitchen that would ideally go from strength to strength; to offer people living in – or passing through – Cockermouth a taste of heartful and authentic Italian food.
The support we had from our customers, lots of whom we now call friends, was amazing – from the very beginning! So much so that when we got into the first Covid lockdown, lots of them got in touch to show their support to us and our families in Italy (which had a really rough start into the pandemic). That really meant a lot to us.
After a few weeks being very confused, we let the ferment do its thing and decided we wanted to turn this into something positive and take the opportunity to try new things.  Alessandro's big passion has always been baking – he doesn't talk much, but if you ask him about different ways to make a pizza dough, he would literally never stop! – so it seemed just reasonable to turn ourselves into a pizza takeaway. And again – we couldn't have been more amazed by the support we received.
So now we have decided to become a pizza place when we reopen for dining in. And what is really amazing is that the support has not only been by our lovely customers, but also from other businesses, helping us spread the word or offering us to work together as for Friday pizzas at the Kirkgate!
We couldn't be more sure that Cockermouth is the perfect place for us to be, but we still have to understand if the cat knew!
Letter From The Chair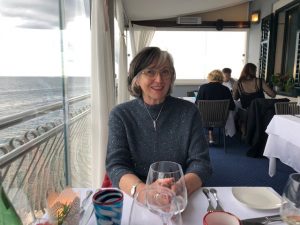 What a joy it has been to have keen football fans in the Kirkgate during the Euros for our free screenings of all of England's matches as Hugh Brodie reports in this month's newsletter. The young men out there on the pitch will have inspired thousands of girls and boys to enjoy sport, learn teamwork, and take pride in our diverse nation. These young people really are our future.
I want to take this opportunity, in the aftermath of the Wembley Final and as we begin our celebrations of Dorothy Wordsworth, Cockermouth's most eminent daughter, to say that without the diversity and inclusion that the young England squad personified, our country and our individual lives are diminished. Our culture – sport, the arts, knowledge of our history, education, the world of work, community and public life and aspirations for the future – needs the richness of everyone's talents and that is what Kirkgate is all about. The Vision of our organisation is inspired by diversity and inclusivity: that creative talent is valued, developed and supported, with opportunities for all to actively engage with and enjoy the arts, our local heritage and community life.
Last year, during the Black Lives Matter protests in the wake of the murder of George Floyd in the United States, Anti-Racist Cumbria was launched with the aim of making Cumbria the UK's first actively anti-racist county https://antiracistcumbria.org/. In a very short time, the initiative has brought people and organisations together, working in schools, with the police, in the arts and other parts of our Cumbrian lives to increase knowledge and understanding, opportunity and involvement, justice and fairness. Cumbria is famed for its friendliness and community spirit, as Alessandro and Carla write this month. We can be proud of all the different efforts, large and small, to replace hatred, abuse and racism with Cumbrian warmth, welcome and open hearts.
Thank you for your continued support for all we aim to do here at Kirkgate.
Marion Bowman