Welcome to #Kirkgate's March newsletter. Top news this month – our new look, box fresh, slimline tonic, low cal snack treat, easy peeler website has just gone live, so take a look! www.kirkgateartsandheritage.org.uk 
The website is a mixed bag, selection box, one-stop shop for wandering through the department store that is Kirkgate online – so double-dig into the spring Kirkgate soil and fill your boots, fill your basket, browse, book, and buy. We've got everything from heritage to hiring, cinema to singing, West Cumbrian village hall gigs to Cockermouth community events – all ages welcome!
And new in the KQC this month we're @Home@Kirkgate, featuring one of the many community groups, individuals and businesses that hire the Kirkgate Centre for their activities. We start with the North Lakes Historical Fencers – who'd do Alan Rickman as the Sheriff of Nottingham in Robin Hood: Prince of Thieves proud with their swagger and broadswords. But they're skilful and modern too: they've even got a blog! They use the Egremont Room every other Sunday from 5 – 7.30pm.
WHAT'S ON – HIGHLIGHTS
Saturday, 12 March, 8pm Leveret
A chance to hear three of England's finest folk musicians, Andy Cutting (button accordion), Sam Sweeney (fiddle) and Rob Harbron (concertina). Their relaxed performances combine consummate musicianship and compelling delivery.
Book here.
Sunday, 27 March, 7.30pm Graeme Wilson
JAZZ@KIRKGATE
Graham and his band play a blend of original material and standards, shaped by their adventurous writing and arranging interests in a broad sweep of jazz and other music. Expect driving swing, delicate balladry and Latin melodies with surprises in store.
Book here.
Friday, 1 April, 9pm Open Mic
Everyone's welcome at our monthly cabaret style Open Mic nights. Entry is free. First Friday of every month.
FILM
The Kirkgate cinema shows the weekly film on Mondays 8pm, Wednesdays 2pm (socially distanced seating) and Fridays 7pm. Friday night is also Fermento Pizza Night, with piping hot, freshly made deliveries to the Kirkgate bar from the Market Place eaterie. Order direct with Fermento on 01900 826655 once you've bought your film ticket. Carla and the team are on holiday at the moment but will be back ready for your orders on the 25th March.
Browse our upcoming film titles.
7 – 11 March, Tick Tick BOOM! (12A) – a dazzling performance by Andrew Garfield as the young composer of RENT, the show that revolutionised Broadway musicals.
14 – 18 March, King Richard (12A) – Will Smith shines as Richard Williams, father of tennis legends Serena and Venus, in the uplifting story of how the family reached the heights of sporting glory.
21 – 25 March, The Power of the Dog (12A) – Benedict Cumberbatch in a gripping story set to sweep the year's main film Awards. There's a special deal on tickets for players of the National Lottery.
28 March – 1 April, Petite Maman (U) – when her grandmother dies, Nelly explores the woods around her house and meets another girl who looks uncannily like her. Past and present start to merge as the girls become firm friends. Subtitles. 'Goes straight into my list of the greatest films ever made for children of all ages' – Mark Kermode
4, 7 and 8 April, House of Gucci (15) – Lady Gaga dazzles in a film inspired by the shocking true story of the family behind the Italian fashion empire.
11 – 15 April, West Side Story (12A) – 'The new West Side Story is simply fabulous' – Rex Reed, Observer. The new hit musical about the teenage street gangs the Jets and the Sharks from Stephen Spielberg.
SPECIAL EVENTS
26 March 7pm, Cliff Richard Live – The Great 80 Tour (Event cinema)
Featuring a selection of his greatest hits, Sir Cliff's incredible energy and passion on stage will sweep you off your feet and have you swaying in the aisles. Filmed live in October last year we're delighted to bring Cliff to the big screen in Cockermouth!
Click here for tickets.
14 & 15 May, Cockfrock
Yes! It's back! The fashion event we all love! We're looking for good quality ladies fashions and accessories for our latest Cockfrock sale in May. Registration for sellers is now OPEN and you can book in advance for the sale itself HERE.
7 May 7pm, The Great Big Kirkgate Quiz
Quizmaster Toby Gaffney returns to baffle and bamboozle us through a myriad of brain-teasing rounds in his unique, inventive quiz.
Book here.I Am Dorothy – Sister of My Soul
WHAT THE TALENT SAYS ABOUT US
Musicians love the Kirkgate – See what some of our favourite names have said about playing on our stage here.
@Home@Kirkgate
Human ingenuity is amazing and it's on display every week at the Kirkgate. In this new slot featuring people who hire our venue, we start with the North Lakes Historical Fencing Society:
North Lakes Historical Fencing is a collection of like-minded enthusiasts who are dedicated to understanding and practising the historical martial arts of Western Europe. We base our training on the evidence of these fighting systems left to us by the 14th and 15th Century medieval masters themselves, such as Johannes Liechtenauer, Fiore-dei-Liberi, Paulus Kal, Hans Tallhoffer and others. We also study the unattributed sword and buckler treatise known simply as MS-I-33.
The works of these historical masters are cryptically written since they were designed not to advertise their secret craft too openly. Therefore, our training is mainly based upon the works of recent scholars who have interpreted these old texts for us. However, for the last few years we have spent most of our time trying to decipher, understand and interpret instructions for using a two-handed sword left to us in the Harleian manuscript. This is one of the very few English sources and we are working directly from a copy of the original 'secretary script' document. We only know of two other groups internationally that are working from this manuscript.
Our source material is continually expanding and we openly encourage (and thoroughly enjoy) debating (and trying!) new historical techniques as they are revealed to us by our or other people's studies.
North Lakes Historical Fencing Society was founded in 2006 and until the floods of 2009 we were based in Keswick. After a short nomadic period we moved to the Kirkgate Centre around 2010 which has become our home and we have been here twice a month ever since!
We have around six core members who have been with the group for many years and there are currently fourteen members including two ladies, ranging from mid-20s to over-50s.
So, if you are over 16 years old, interested in joining us in discovering our forgotten European martial arts, then come along to a training session to meet us and see first-hand what we are all about.
Newton Bowmer, North Lakes Historical Fencing Society
https://nlhf.wordpress.com/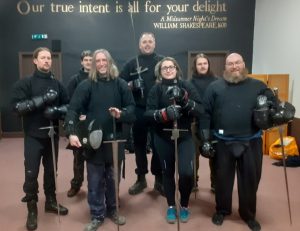 A Day in The Life
Our volunteer of the month is Bertie Cook, 14. Here he is, in his own words:
Hi, my name is Bertie Cook, I am 14 years old, and I am the newest (and youngest ever!) volunteer at the Kirkgate.
I haven't lived in Cumbria for my whole life – I moved here in 2013 – but when I did come here I was instantly in love with the landscape and all the lovely people. Growing up in the Lake District has been amazing; even just getting a view of the lakes and mountains every day on my way to school in Keswick is so much more entertaining than staring at concrete blocks all day like you sometimes can in a city.
I have recently got the chance to enjoy the culture here even more through the Duke of Edinburgh award scheme (silver level). I've always wanted to get a local job that supports the town, so I was obviously very interested in working at the Kirkgate when I found that I could do my DofE at the same time as finally getting a job.
During the six months I need to do for DofE, I'll be doing all sorts of things around the Kirkgate, such as welcoming guests and making publicity posters for events or trailers for the film screenings. The thing I am probably most looking forward to is watching the films for free when I'm being Front of House staff! I'm sure I'll love my time volunteering here!
Bertie Cook 🙂
You can see a little film with some of our volunteers here:
https://www.youtube.com/watch?v=RNKX24goO2M
If you would like to get involved as a volunteer, please contact us on volunteers@thekirkgate.com
As well as volunteering, there are many ways you can help us with your support. Coming along to our events is the best way possible!
You can donate here.
Become a Friend of Kirkgate
You can join our exclusive Friends organisation from £20 a year to enjoy various benefits while supporting us.
Free ticket exchange if you book tickets and are unable to attend
Priority invitations to special events
Occasional newsletters updating you on future plans and new developments at Kirkgate Arts and Heritage.
Join here.
KIRKGATE HISTORY AND HERITAGE
More than a century ago Cockermouth was a very industrial town, manufacturing most items necessary for everyday life. The town boasted a thriving hat industry in the time of Thomas Wilson, a major employer in the town, whose hat factory at Cocker Bridge end produced around 4,000 hats per week in the early 1850s. He was able to attract workers from the Lancashire hat industry, many of whom settled in the town permanently.

The hat industry was a dirty trade in which men worked in poor conditions. Temperatures varied enormously, depending on which stage of the hat-making process a man was involved with.  Beaver was becoming very scarce, so increasingly wild rabbit fur and relatively cheap wool were used for basic hats.  Wool for felt hats would be carded, often in people's homes. In the factory rabbit fur was shorn off the skin and 'carrotted', when the fur was treated with mercuric nitrate to make the fibres suitable for the felting process, during which it was blended with the wool.  The phrase 'as mad as a hatter' refers to the shakes which a hatter could develop from mercuric poisoning.  In Cockermouth, women were also employed plaiting straw to make straw hats in their own homes.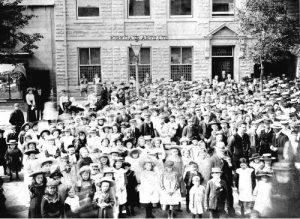 Thomas Wilson was considered a kind man, generous to his employees.  He had Grecian Villa built (now Manor House Hotel, Main Street) as his home and lived there until he died in 1857.  In All Saints' Church there is a monument to him, reflecting his importance in the prosperity of the town.
There were several other lesser hat manufacturers, including William Smethurst who was a satin and felt hat manufacturer, operating from Rubby Banks Mill in the mid-19th century.
Gloria Edwards
Cockermouth Heritage Group
Our Cockermouth
Each month we hear from a member of the wider Kirkgate Quarter family. This month, as we see more and more spring blossom and flowers blooming, we welcome the new florists to Market Place.
My name is Steph Marrs, and I am fortunate enough to be the owner of the Bespoke Florist at 26 Market Place, Cockermouth. Flowers are bought and gifted at all the important milestones of life, and I am delighted to be able to have the opportunity to provide them. We design flowers for all occasions, meaning there is plenty of variety to the work that I get to create from day to day. So, I am never bored.
I studied fine art at Leeds Metropolitan University many years ago, long before I ever dreamt about a career in floristry. Landscape, colour and texture influenced all areas of my painting and drawing, and these elements continue to be central to my designs but now, and for the past 17 years, with flowers. With so much beautiful scenery to be admired as I deliver flowers around the area, you cannot help but be inspired.
After Uni and not really knowing what I wanted to do for work, I went on to study at Newton Rigg College near Penrith and gained my City and Guilds qualifications in floristry and have never considered doing anything else since.
After working in multiple florist shops, I decided to start my own business after my children were born. I initially worked from my kitchen at home. But toddlers wading through discarded leaves and all the comings and goings of living on a working farm, although fun, could at times be a little chaotic. So after my children started school, I decided that I would prefer to work from a shop space. I enjoy the everyday interaction with customers and seeing all the comings and goings in Market Place at my new premises.
I am a big history geek and the beautiful, historic Market Place of Cockermouth and in particular all the little details that are present in the shop from old bread ovens to spooky cellars are a real treat to me.
visit The Bespoke Florist website here.
Letter From The Chair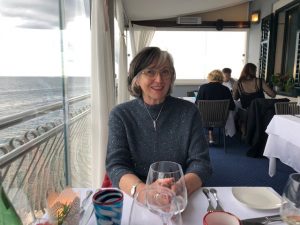 After 8 years on the Board of Trustees at Kirkgate, the past 6 as Chair, this is my last letter because I'm standing down at the end of March. It's going to be a wrench! I have really enjoyed working with everyone – the other trustees, staff and volunteers – and attending a great many of the events we've put on, from films to plays to gigs to fundraisers such as Cockfrock and the Great Kirkgate Quiz, both of which are returning in May.
There is now a lot of new blood at Kirkgate, on the Board and amongst the staff, and we have a new plan for the future. The organisation is in great shape, having negotiated the pandemic well, and audiences and private hire customers are coming back after the lockdowns. It's a good time to pass the baton to someone who can push on into the next phase of Kirkgate's development as an essential fixture of life in Cockermouth and West Cumbria.
We are advertising for a new volunteer Chair to lead the brilliant team who make everything tick. Have a look – it might be you or someone you know!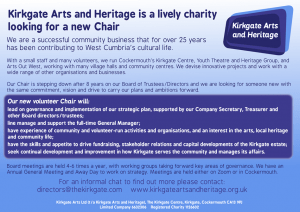 Please get in touch if you can help us fill this vital post – email directors@thekirkgate.com.
Volunteers are the lifeblood of Kirkgate, and thanks are due to volunteer Nanette Rigg who worked alongside Annabel Rigg and Kate Wilson to set up our new website.
I'm planning to continue volunteering, supporting the charity's fundraising efforts and finding grants for the many building improvements and community arts and heritage projects that we have in the pipeline. But most of all, I'm looking forward to sitting back and relaxing over Kirkgate's Friday pizza nights and a film, the fabulous Sunday night Jazz@Kirkgate gigs with a drink from the bar, and outings far afield in West Cumbria to some of the Arts Out West venues. I hope to see you sometime!
Marion Bowman