Welcome to #Kirkgate's May newsletter.
'Ne'er cast a clout 'til May is out' as they say, meaning 'it won't be warm enough to do without your vest until the May blossom (hawthorn) is in bloom'. You must have seen the drifts of white in the hedges, so with that in mind, we're focusing on next weekend's Cockfrock sale where you can bag good quality bargains for your summer outfits and beyond (Saturday and Sunday, May 14 and 15) – no vests in sight.
Cockfrock is a Green event at the Kirkgate Centre and the opposite of wasteful fast fashion. Organised by the Friends of Kirkgate, it enables local fashionistas to find buyers for items they no longer wear, and receive 70% of the sale price. The remaining 30% goes towards the costs of putting the event on and fund-raising for the Kirkgate Centre.
There are always some excellent pre-loved garments and accessories at very attractive prices and on top of that, it's a great outing for groups of friends. Tickets are available from the box office on 01900 826448, on our website, Billy Bowman Music in Lowther Went, or on the door.
Doors open at 7pm on Saturday and tickets are £5 each, including a glass of fizz. The bar will be open. On Sunday, the event runs from 10am until 1pm, with second hand books, CD's and DVDs on sale too!
Become a Friend of Kirkgate
Cockfrock is open to the public but if you would like to join our exclusive Friends organisation from £20 a year you will enjoy various benefits while supporting us.
Free ticket exchange if you book tickets for shows and are unable to attend
Priority invitations to special events
Occasional newsletters updating you on future plans and new developments at Kirkgate Arts and Heritage
Join here: https://www.kirkgatearts.org.uk/become-a-friend/.
WHAT'S ON – HIGHLIGHTS
Heritage Talks and HM The Queen's Platinum Jubilee
Our new season of monthly local history talks has been hugely popular, selling out every time. Last week's talk on the World War 2 Prisoner of War camp at Moota was packed, and the upcoming topic is likely to be the most popular yet.
Book here.
In addition, on Saturday June 3 at 7pm, Kirkgate is hosting a special free concert organised by Cockermouth Town Council. 'Music Through Her Reign' celebrates Cockermouth's talent over 7 decades. An evening of live entertainment, featuring songs from throughout Her Majesty's 70 year reign, performed by Cockermouth musicians and singers of all ages. We recommend booking in advance for what's sure to be a sell-out evening. Free entry.
You can search our website by category or date to find what tickles your fancy www.kirkgateartsandheritage.org.uk, but here's our top selection for the next few weeks. All shows at the Kirkgate Centre, Cockermouth, unless otherwise stated: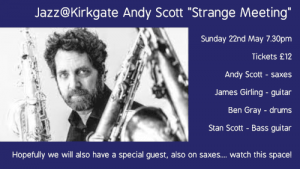 MUSIC
Sunday, 22 May, 7.30pm Jazz@Kirkgate Andy Scott: 'Strange Meeting'
The latest in our programme of Jazz nights, sax player Andy Scott brings us Latin jazz, funk, originals and swing with a great line-up of talent alongside.
Saturday, 28 May, 8.00pm Mike Turnbull and the Valiant Knights
Mike Turnbull is a multi-instrumentalist who has the knack of writing well-crafted songs with a story to tell. Influences are taken from his home region of the Lakes, around the UK & beyond. The Valiant Knights is Mike's folk rock band.
ARTS OUT WEST
Support Your Local Library: The Rock Opera
A comedic rock opera that invites audiences on an insightful and entertaining journey along the shelves of their local library. A toe-tapping tale of intrigue and indexing, of class and classification, of romance and repeat overdue fines. And why this public institution is vital and relevant for our communities – now more than ever.
Friday, 13 May, 7pm – St Bees School
Saturday, 14 May, 7pm – Whitehaven Library
Sunday, 15 May, 7.30pm – Blindcrake Village Hall
For tickets and to search online for other upcoming Arts Out West shows in Millom, Ennerdale, Oulton and Kirksanton go to www.kirkgateartsandheritage.org.uk
FILM
The Kirkgate cinema shows the weekly film on Mondays 8pm, Wednesdays 2pm (subtitled and with socially distanced seating) and Fridays 7pm. Friday night is also Fermento Pizza Night, with piping hot, freshly made deliveries to the Kirkgate bar from the Market Place eaterie. Order direct with Fermento on 01900 826655 once you've bought your film ticket.
Upcoming highlights: Helen Mirren and Jim Broadbent in The Duke (12), Penelope Cruz in Parallel Mothers (15), Kenneth Branagh in Death on the Nile (12), and Sean Penn in Licorice Pizza (15)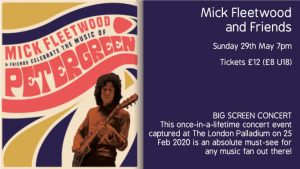 SPECIAL EVENTS
Saturday, 21 May, 6pm The Great Puz Pubble Hunt 1.1
A head-scratching, mind-bending, light bulb inducing evening's entertainment made for people who love puzzles, competitions, escape rooms and quizzes. Teams will battle it out to be the first to follow the clues and puzzles to reveal the password of victory. Be part of the development of a brand new entertainment format from our own Quiz Master Toby Gaffney. Free event, click here to book in your team.
Sunday, 29 May, 7,30pm Event Cinema: Mick Fleetwood and Friends
With a line-up featuring Neil Finn (Crowded House), Noel Gallagher (Oasis), Billy Gibbons (ZZ Top), David Gilmour (Pink Floyd), Kirk Hammett (Metallica), John Mayall, Christine McVie & Jeremy Spencer (Fleetwood Mac), Zak Starkey, Pete Townshend (The Who), Steven Tyler (Aerosmith) and Bill Wyman (The Rolling Stones), this once-in-a-lifetime concert event captured at The London Palladium on 25 Feb 2020 is an absolute must-see for any music fan.
Kirkgate Youth Theatre
Youth Theatre leader Tish Thornton has had a busy year with our young actors. She writes:
We've had a fantastically Wordsworthian time of it, as part of Kirkgate's #IAmDorothy project. Twenty young people performed in 'Discovering Dorothy' at Cockermouth Live 2021. They braved the rain in the garden at Wordsworth House, umbrellas were provided, and then the sun came out for their performance at Cockermouth Castle.
The young people then developed their work into the piece 'Sparkles of Light' which began with brother William Wordsworth's poem 'To a Butterfly' and Dorothy's writing in her journal about the poem. We used them as a basis for an exploration of their relationship with Nature, linking to our relationship with Nature today. We then threw in a talking French butterfly just for fun!
Our older group imagined what a time-travelling Dorothy would make of the plight of butterflies today. Would she join in with our young environmental activists? We decided she would! This was performed to great acclaim at the Kirkgate Centre in December. After a difficult year or so, the young people loved working together and performing under the lights.
Kirkgate Youth Theatre are now busy working on two of Wordsworth's poems, 'Lucy Gray' and 'Goody Blake and Harry Gill', the former an atmospheric ghost story, and the latter a more hard-hitting fable for today. The young people are very much looking forward to performing these in July.


Join us!
If you know anyone aged 13 – 18 who is interested in theatre and performance, we have a couple of spaces in our super-friendly Young Actors group.
Kirkgate Youth Theatre is a great place to learn new skills, make friends, get creative, build confidence and, most importantly, have fun!
Sessions are on Thursday evenings at the Kirkgate Centre during term time from 6.30 – 8pm. Get in touch with Tish at letitiathornton07@hotmail.com.
More information here: https://kirkgateartsandheritage.org.uk/youth-theatre/
A Day in The Life
Our volunteer of the month is Peter Daley.
For many years I have always enjoyed going to various events at the Kirkgate such as live music, films, talks and the beer festival. While working I didn't have much time to spare, but on approaching retirement I saw an advert from the Kirkgate about volunteering and thought that it was an organisation worth supporting, being a valuable asset to Cockermouth and having a variety of volunteering roles.
My previous work experience included over 30 years in local government in environmental health which was extremely varied and involved both technical and customer facing work so I was interested in a variety of volunteering roles.
Initially I had no idea which roles would suit me but as there was a shortage of bar volunteers and I was interested in beer that is where I started about 10 years ago. A few months later I started being trained as a projectionist. Back then it was 35mm film and preparing the film reels was fascinating if a bit daunting at first. This was replaced by Blu-ray and later DCP with all the digital film preparation being done on a laptop. The projection role is fascinating and rewarding. There is always help on hand in case of uncertainties.
For both roles I received good training from other volunteers and staff, so if anyone is thinking of volunteering, don't hesitate. Currently I also PAT test the portable electrical appliances in the Kirkgate. I was previously on the Friends Group and Safety and Maintenance group for a while. Other commitments have meant that I have had to stop these at present.
My other interests are mainly outdoors, including running, cycling and hill walking. My volunteering at the Kirkgate adds some balance to my life. I enjoy the variety of volunteering roles and enjoy meeting volunteers and customers. It is good to be involved with such a valuable facility as the Kirkgate which offers such a variety of experiences to the local community.


Why not join our team?
With our film and livestreaming programme expanding we need more volunteers, especially projectionists like Peter, and Duty Managers. If you would like to be supported and trained in taking on interesting and rewarding new challenges, please get in touch for more information. Contact volunteers@thekirkgate.com
You can see a little film with some of our volunteers here:
https://www.youtube.com/watch?v=RNKX24goO2M 
@Home@Kirkgate
Every week the Kirkgate resounds to the energy and enthusiasm of the youngsters who participate in Osprey Cheerleading Academy, one of the many businesses who hire our facilities. Here's Olivia Leonard to tell us more:
My name is Olivia and I can be found in the Kirkgate Centre every Tuesday with my club, Osprey Cheerleading Academy. I have a long connection with Cockermouth, and the Kirkgate, as my grandfather Jack was a member of the Cockermouth Heritage Group. Having visited the town often since my childhood I moved up permanently in 2015.
My interest in cheerleading started while at university after doing both dance and gymnastics as a child. When I moved to Cockermouth, I wanted to share the sport I'd fallen in love with, with the children in our town. Our first class was in May 2015, and we have grown in numbers hugely since then. We have gone from strength to strength, this year attending The International Summit in Florida, where we competed against 40 teams from around the world.
In my (very little) spare time, I am also a Social Secretary of Bassenthwaite Sailing Club, where I spend my weekends with my family. I have two little girls, Saskia & Phoebe, who I hope will also develop a love for both Cheerleading & Sailing as they grow.
If you have a youngster who would be interested in joining us at Osprey's Cheerleading Academy you can get in touch via email: osprey.cheerleading@gmail.com, we currently have classes suitable for ages 3+ and plan to resume our 6m+ classes from June.


KIRKGATE HISTORY AND HERITAGE
In the aftermath of last week's elections for the new Cumberland Council it seems a good opportunity to look at some interesting aspects of Cockermouth's political history.
While the town is now part of the Workington constituency in Parliament, until 1867 Cockermouth was a separate constituency, with two MPs. These were, of course, the days before all adult men and women were allowed to vote. Only men of property and connections could vote and exercise political power. The town's first two MPs, elected in 1295, were William Bully and Peter de Hale.
Nearly five hundred years later James Lowther sought political power. He had inherited great wealth through his family, as well as estates in Cumberland and Barbados, and was said to have a fortune of over two million pounds partly due to the exploitation of enslaved Africans.
Lowther spent around £50,000 buying up numerous burgages in Cockermouth (plots of land in the town that were rented out), since with each came a vote.  Many properties in the town still have 1,000 year leases dating from 1761.  Cockermouth was effectively a 'pocket or rotten borough'.  James Lowther (known as 'Wicked Jimmy') was greedy for power, seeking to control parliamentary representation. He was one of the MPs for the town between 1769 and 1774.
Have you ever wondered where Horsman Street, near Gote Bridge, got its name?  It was named after Edward Horsman, another Cockermouth MP (1836 – 1852).  He was a rather flamboyant character, a satirical drawing of whom appeared in the magazine Vanity Fair in August 1872.
By the 1900s the growing demands for women to be given the vote were playing a part in local elections. The National Union of Women's Suffrage Societies campaigned in Cockermouth during the 1910 election to persuade candidates to commit to women's suffrage and to persuade voters to support a petition for women's right to vote. Sir John Randles, MP for Cockermouth, supported votes for women. He was first elected in 1900, but lost the seat in the 1910 election. He was Chairman and managing director of the Moss Bay Hematite Iron and Steel Company in Workington and a director of the Workington Iron and the Beckermet Mining Companies. The picture from our collection shows him stepping out of his motor car during the 1910 election, which must have turned a few heads at the time.
One of the former Cockermouth MPs has his own statue on Main Street and another had a rather impressive clock erected in his memory.
Edward Horsman
Sir John Randles
'Neddy'
Edward Horsman in Vanity Fair, August 1872
The Earl of Mayo, Richard Southwell Bourke, gazes down from his plinth, where he has stood since he was unveiled in 1875.  Born in Dublin, he Cockermouth's MP between 1857 and 1868, then Queen Victoria appointed him Viceroy and Governor-General of India in 1869 as the British Empire was growing in power. He was assassinated in 1872 during a visit to the Andaman Islands where a penal colony had been set up to incarcerate political prisoners.  The statue was erected in his memory and provides a striking centrepiece to Main Street (despite having been demolished accidentally by a lorry and reconstructed a few years back).
Until 1932 Mayo could gaze at the ornate clock which stood further down the Main Street towards Station Street.  This was the clock affectionately known as 'Neddy', a memorial clock for another of Cockermouth's MPs, Edward Waugh, MP from 1880 to 1885.
Gloria Edwards
Cockermouth Heritage Group
Our Cockermouth
Each month we hear from a member of the wider Kirkgate Quarter family. This month it's Mathew Davies from Castle Antiques and Curios and the Cavern salvage centre in Market Place.


My family have been Cockermouth residents since the early '70s, running several antique shops over the years. My parents started out in the Old Courthouse, then joining forces with Elaine Bell the business moved to its own premises on Station Street in the 1980s. Growing up surrounded by antiques and all manner of interesting objects sparked a real interest in me.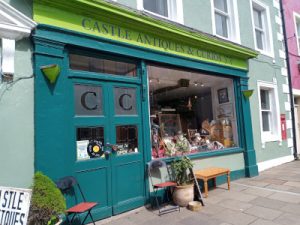 After training as a chef and working in Spain for a number of years I returned to the area and began pursuing that interest, opening my own shop on Market Place just as the 2009 flood hit…
We were open for about a day before closing for the following year. But that didn't put me off, and once we reopened I started to focus on rare and collectable vinyl, alongside the antiques. For the last couple of years I have worked to extend the business by taking on another premises, just over the road, where Cavern Salvage sells everything from boats to bikes, architectural treasures and contemporary furniture. We also have a wide range of garden ornaments, planters and furniture.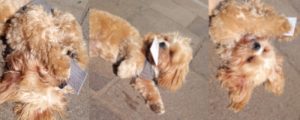 The shop has appeared on TV a few times, we'll be on Antiques Road Trip again in June, so keep your eyes peeled. In this trade there is never the same stock in the building twice, so keep popping in to see what's new. Our most recent (and friendliest!) addition to the staff team, Colin, is always keen to meet new people and have a tummy tickle! He's not much use when it comes to serving customers but he always raises a smile, and as you can see on the photo's he's really working on his marketing skills!
Mat Davies
Castle Antiques and Curios
4 Market Place
Cockermouth
CA13 9NQ
07768516350
General Manager's Letter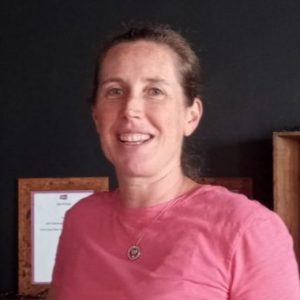 It's wonderful to have Cockfrock back at the Kirkgate this coming weekend after a break of two years due to the pandemic.
Long before I became the paid General Manager one of my favourite events to work on as a volunteer was Cockfrock. It takes a lot of organising, but it's such a lot of fun to get together with the girls on Saturday night and sip prosecco while browsing for bargains, or pop down on the Sunday morning to catch those hidden gems you missed before. We'll also be selling pre-loved books and DVDs upstairs on the Sunday, at crazy prices!
It's become a big part of the town's events calendar and many people look forward to it. Re-selling good quality pre-loved clothes makes such a lot of sense in financial terms, particularly in the current economic climate.
This year's event is also an opportunity to emphasise the environmental message of Cockfrock. Fashion production makes up 10 per cent of humanity's carbon emissions, dries up water sources, and pollutes rivers and streams. A shocking 85 per cent of all textiles go to the dump each year. So, cheap fashion isn't really cheap. There are lots of hidden costs to our environment and the future of the planet. The great thing is that you can buy clothes and accessories at Cockfrock and you won't have to wear a hair shirt! We have some lovely items from big labels to day-to-day wear. You can go home with everything you need to refresh your wardrobe. Sellers go home having made a bit of money and Kirkgate gets 30% of proceeds to help with the ongoing refurbishment of the Centre. I hope to see you there!
Emma Heys
emma@thekirkgate.com