Welcome to #Kirkgate's November newsletter. Here in Cockermouth we had a difficult few days with record amounts of rain at Honister and across the area leading to the Cocker in particular rising dangerously. Fortunately the flood defences held but a few very vulnerable properties, including our near neighbour The Honest Lawyer restaurant on the Cocker bridge, were inundated. The Town Council reluctantly had to cancel the Fireworks in the Memorial Gardens which were hit by the overflowing Derwent, but with luck the Christmas lights switch-on event on Main Street will go ahead on November 21.
Dorothy to light up Cockermouth!
We will be unveiling our own surprise as part of the switch-on event. To add a heritage element to Cockermouth's beautiful Christmas lights this year, we commissioned a special art work featuring Dorothy Wordsworth who was born in the town on Christmas Day 250 years ago. The 'Portrait of Dorothy', a light installation designed and made by ArtFly in Ulverston, will stand on a temporary plinth near the Christmas tree in the central reservation on Main Street. It will be a fascinating celebration of the town's most famous daughter and a lovely addition to the popular light show.
We recently brought the ArtFly artists to Fairfield Primary School to work with 120 children making their own, large-scale Andy Warhol-style portrait of Dorothy. Using a mix of digital and paper techniques involving pixilation, the children made individual contributions to the stunning collective artwork which will eventually hang in the Kirkgate Centre.
Celebrations galore!




#Kirkgate's winter season highlights are looming, ready to entertain, delight and beguile. Here's our top selection:
At the Kirkgate:
Thursday, November 25 to Saturday 27 – Cockermouth Beer Festival is back, organised by the Round Table and hosted by #Kirkgate. http://cockermouthbeerfestival.co.uk/
Friday, November 12 – Talisk, #Kirkgate favourites, will be on our stage again with their irresistible blend of foot-stomping, genre-bending music #KeepMusicLive
Monday, November 22 – Supernova, the hit West Lakes-based film starring Colin Firth and Stanley Tucci, is back in a special cabaret seating screening followed by a Q and A with Coronation Street actor Toby Gaffney introducing fellow actor Peter Macqueen, both of whom appeared in the film.
Monday, 18 December – Pecker, our sell-out local stars, will twinkle at this Christmas Party gig to celebrate the festive season in style and raise money for our local Food Bank.
Wednesday, 20 December – No Time To Die, Special Christmas screening! Why wait for Boxing Day for a Bond film? Be more 007 and dress up to the nines then join us for cocktails at the bar, with cabaret style seating in the auditorium for Daniel Craig's last outing as James.
To see our full Kirkgate programme, including the weekly film screenings, and book: www.thekirkgate.ticketsolve.com/shows




Kirkgate Out West venues
This month at Gleaston (12th), Ullock (13th) and Kirksanton (14th) village halls:
Love and Spice – Balbir Singh Dance Company
Live music, dance and cooking – what's not to like?
At The Gather, Ennerdale, (18th) and Muncaster Parish Hall (19th):
The Victorians – Harp & A Monkey
A new show reworking and reviving the largely forgotten folk, music hall, parlour, industrial, agricultural and street music of the era.
Check our website for all the details and booking https://thekirkgate.ticketsolve.com/shows
Another new face in the #Kirkgate team
We're delighted to welcome David Thomas to our Board of Directors/Trustees. David and his wife Sue recently moved to Cockermouth. They are big Live Music and theatre enthusiasts.
David is our new Treasurer and, with General Manager Emma Heys, is getting to grips with a range of finance management improvements we are working on.
David is a true Cockney – born within the sound of Bow Bells, in Plaistow, East London. Therefore, he is a life-long Hammers fan and still supports them from afar in Cumbria.
He is a Fellow of the Chartered Institute of Public Finance and Accountancy and spent much of his career as the Finance Director of various NHS Trusts.
If you are a member of our limited company, Kirkgate Arts Ltd, zoom in to the AGM on November 24 and meet David and other trustees standing for re-election to the Board. If you are not a member and would like to be in order to play a part in overseeing the organisation, please contact secretary@thekirkgate.com

A Day in The Life
Every month we feature a volunteer and this time, to mark the fact that our Box Office is open again for in-person sales and inquiries on Mondays, Wednesdays and Fridays, 10am – 12 noon, it's box office stalwart Barbara Kohler.
Barbara writes:
Chris, my partner, and I moved to Cockermouth after we both retired over 4 years ago. We chose Cockermouth not only for its accessibility to fell walking and swimming in lakes, but also because we knew it had an arts centre: all aspects we appreciate very much.
So it made sense to see if I could help in any way. I have always enjoyed working in an environment where there is customer interaction (for example I had a small shop in London for 14 years and got a lot of satisfaction out of looking after my customers as well as I could).


My last employer made me come to grips with basic IT skills although I still feel utterly useless. But at least I had finally accepted that knowing how to use computers is actually quite fun as well as essential. I didn't want to lose what I had learned and when offered a position as a volunteer in the box office I accepted it happily.
Box office volunteers fulfil a 2 hour shift at least once a fortnight or more frequently when other volunteers are on holiday or not well. Our job is first and foremost to be available for the public, answering telephone calls, helping customers with buying tickets for a seat to their liking. This involves being trained to use Ticketsolve, the sales software, although since the lockdowns a lot more ticket sales are done online.
Thankfully, Katie Gentry, our Operations Manager, has created a folder with step by step instructions and if I am stuck despite her folder someone from the office will come and help – we don't work in an otherwise empty building.
Our second most important task is to relieve the staff from mundane jobs like data input of customer surveys or shredding accumulated out of date papers (strictly only what the office tells you to shred!) Or anything else the office hasn't got time for. I have offered to wash glasses in the old bar area, which gives me job satisfaction and reminds me of my younger self working in a veggie restaurant and the Leigham Arms pub in South London. Volunteering at the Kirkgate has helped me feel part of the Cockermouth cultural scene.
Join the volunteering fun!
Our next Volunteers Social gathering is on Sunday, November 28 where everyone who's part of our team can relax together and enjoy a pot luck supper before the Christmas shindigs start in earnest.
As well as volunteering, there are many ways you can help us with your support. Coming along to our events is the best way possible!
You can donate here: https://thekirkgate.ticketsolve.com/products/donation
You can join our Friends organisation from £20 a year and get involved in fundraising events such as Cock Frock and the Great Big Kirkgate Quiz. https://www.kirkgatearts.org.uk/become-a-friend/
Or – make us your Allerdale and Lakeland Lottery Good Cause.
Tickets for the lottery cost just £1 per week. Each ticket has a 1 in 50 chance to win a prize each week, with a top prize of £25,000.
From every £1 ticket you buy, 60p goes to local good causes in Allerdale and improving the community. 50p of that 60p comes to Kirkgate Arts and Heritage if you make us your Good Cause.
https://www.allerdalelottery.com/support/allerdale
Thank you!

Kirkgate History and Heritage By Gloria Edwards
Looking ahead to next June, nationwide celebrations are being held for the Queen's Platinum Jubilee. At the Kirkgate Centre, we are planning a display which will cover the Queen's past Jubilee celebrations, and also her Coronation in 1953.  As a reminder, we had the Silver Jubilee (1977), the Golden Jubilee (2002) and the Diamond Jubilee in 2012. The Platinum Jubilee will commemorate 70 years as Queen, a feat that not even Queen Victoria managed to achieve.
What we need now from the townsfolk of Cockermouth are all your lovely photographs commemorating any of the past Jubilee occasions, and the Coronation.  Did you or your family take part in street parties, concerts, church services, parades, and did someone record the happy event on their camera?  I can remember receiving a Crown-shaped money-box for the occasion as a child. Do you have any similar memories?  We want you to get in touch and let us know – we can copy photographs and return within twenty-four hours because we know how precious those photographs are.  Even better, can you contribute two or three lines (or more) describing what happened on the day, and which we can use with the blown-up images?
We are presently collecting all such memorabilia to work on in time for next June, so please contact us: cockermouthheritagegroup@outlook.com, heritage@thekirkgate.com or in person at the Kirkgate Centre.
Our display will also feature Jubilees from further back, since many brought benefits to our town which we still enjoy today.  Queen Victoria's Golden Jubilee of 1887, for instance, brought new bridges (the Jubilee Bridge on Lorton Street, and the Quaker Bridge on South Street), and trees planted the length of Main Street and on Station Street.
On the day itself there were parties, bonfires, fireworks, church services and processions, some welcome light relief for Victorian Cockermouth.
To get involved with the Heritage Group email heritage@thekirkgate.com or volunteers@thekirkgate.com
Our Cockermouth
Each month we hear from a member of the wider Kirkgate Quarter family.  This month, Pam Fisher of The Laundry Room in Market Place tells us her Cockermouth story:
We set up the laundry business in 2012 and have had the good fortune to have been busy ever since, thanks to the continued support of the residents of Cockermouth.
I've had the same members of staff work with me in all those years and for this I am extremely grateful. They've not only shown me loyalty and support, but they work very hard on a day to day basis.
We have a lot of regular customers who have used us for many years and some travel over thirty miles to use our services. These customers have become very good friends within this time. Even though we are only a small business we endeavour to accommodate as many customers as possible, but we always make sure our local customers are prioritised.
The services we provide vary from laundering duvets and toppers to wash, dry and fold to ironing, which is all done by hand and to a very high standard, and dry cleaning.
We also provide services for small local business, such as pubs, cafes and B&Bs which thankfully are now getting back to some kind of normality after a very hard time. Cockermouth is very lucky with the support that the residents show our wonderful town.
Our opening hours
Monday 10 – 4
Tuesday 10 – 4
Thursday 10 – 2
Friday 10 – 4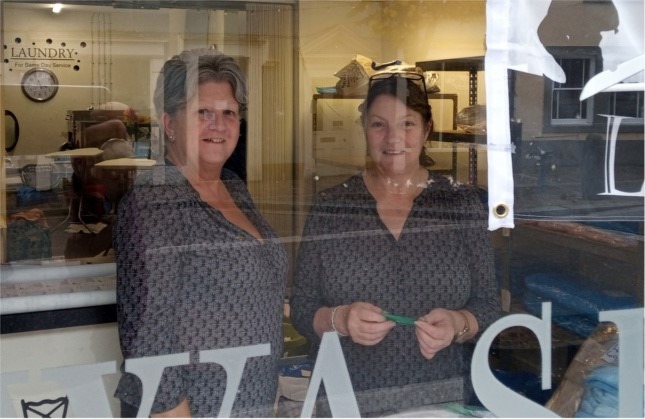 Letter From The Chair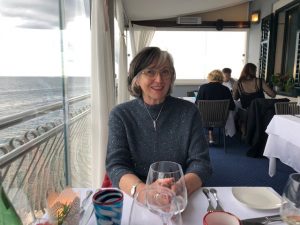 Since the horrible floods of 2009 and 2015 Kirkgate has always stood ready to provide some relief for people having to clean up their homes and businesses after being inundated. We ran several 'Flood Socials' after the 2009 floods – enabling people to come to the Kirkgate to have a bit of fun and a crack in between the physical and emotional graft of putting their lives back together again.
In 2015, with the financial support of the Cumbria Community Foundation we offered vouchers to people who'd been flooded so that they could come and see a show they liked the look of at the Centre.
Just over a week ago it looked as though the town might flood again and although some properties did not escape, the flood defences held and the streets were spared. In typical Cockermouth fashion, the local volunteers of the Cockermouth Emergency Response Group and other community organisations were out in force helping where needed.
What a great town this is. While here at Kirkgate Arts and Heritage we employ a small number of paid staff, we could not exist without our volunteers who not only turn up in significant numbers but range across a huge variety of work unpaid, and on top of it all, seem to enjoy it! In return we try to look after them as best we can, with thorough training and support, and an annual small reward of a credit on their Ticketsolve account. I'm very proud of the little film with our volunteers that my sons George and Lowell made last year which you can see in the link above, with original music by our very own caretaking assistant (and, actually, amazingly talented musician) Owen Evans.
Probably the part that we all enjoy the most is the periodic Volunteers Social, which this year is on November 28. The Socials are pot luck-style which gives the very significant numbers of keen cooks and bakers in our team a chance to go full Bake Off with more food turning up than we can really eat!
A couple of years ago we did a calculation of the input we get from our 100 volunteers and it came to 7,700 hours a year. There is no way we could afford to cover that amount of time with paid staff, so they deserve a lot of thanks.
Without them, Kirkgate would not exist and to lose what Kirkgate offers Cockermouth and the wider area would be a real blow to what Pam Fisher, of the Laundry Room in Market Place, rightly says in the KQC this month is 'a wonderful town'.
Marion Bowman