Welcome to September! Schools are back and the equinox's special half day/half night magic fast approaches. And then – the joys of darkening, starry nights with bright lights through to Christmas at the Kirkgate and Arts Out West venues across West Cumbria. https://www.rmg.co.uk/stories/topics/what-when-autumnal-equinox
You can see What's On on our website now with shows closer to Christmas being added soon. Audiences are picking up, so be sure of getting a seat by booking online in advance https://thekirkgate.ticketsolve.com/shows
We are also building a new website so watch this space for more news from The Kirkgate Quarter.
---
Autumn's live music and films at The Kirkgate
Tuesday's socially distanced film matinees have been really popular so they are continuing.
Fabulous Friday Pizza nights are on pause because the wonderful Fermento team are taking their annual leave. Back from 24 September (tbc)
For September and October, film times are as follows (bar open an hour before):
Monday 8pm, doors 7pm
Tuesday 2pm, doors 1pm
Friday 7pm, doors 6pm
From the beginning of October we will be operating a full capacity policy at all screenings and live shows except the Tuesday matinees which will remain socially distanced seating.  We will also include subtitles at the Tuesday matinees.
The new film line-up features some of our favourite stars:
w/c 13 September The Courier (Benedict Cumberbatch)
w/c 21 September Dream Horse (Toni Colette)
w/c 27 September Rare Beasts (Billie Piper)
w/c 4 October First Cow (Kelly Reichardt)
w/c 11 October After Love (Joanna Scanlan)
w/c 18 October French Exit (Michelle Pfeiffer)
w/c 25 October Limbo (Ben Sharrock)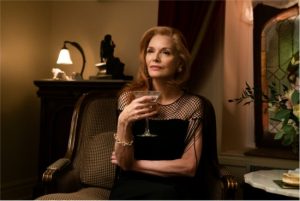 And don't miss this! On 28 September, a screening from the National Theatre in London of Romeo and Juliet, recorded live.
What's it about?
The children of mortal enemies fall for each other. It all gets a bit :'(.
Why's it so good?
It's the uber-love story, the template for every tale of doomed romance ever written.
© Ellie Kurtz  https://www.timeout.com/london/theatre/the-ten-best-shakespeare-plays-of-all-time
This amazing production's award-winning cast stars Jessie Buckley (Wild Rose, Judy) and Josh O'Connor (The Crown, God's Own Country) as Juliet and Romeo with Tamsin Greig and Adrian Lester.
Brilliant! Get your tickets here
---
I Am Dorothy – Sister of My Soul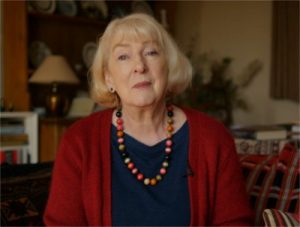 On 25 September, I Am Dorothy, our year-long celebration of Dorothy Wordsworth, continues with Wordsworth expert, author and poet the wonderful Kathleen Jones.
Torn apart as children, when William and Dorothy Wordsworth were reunited, she became the centre of his world. Kathleen discusses the powerful brother/sister bond that inspired their poetry and prose. This is a collaboration between National Trust's Wordsworth House (Cockermouth Main Street) and Kirkgate to commemorate the 250th anniversary of Dorothy Wordsworth.
'Sister of my Soul' is booking now at The Kirkgate and live streamed.
£10 (auditorium) – Please click on the first event at 19:00 listed at the bottom of the webpage (Kirkgate Theatre)
£5 (watch at home) – Please click on the second event at 19:00 (virtual spaces)
---
Kirkgate/bands  – Autumn love-in!
Musicians tell us they love performing at the Kirkgate for the acoustics, the audience, the atmosphere and the very warm welcome from the Kirkgate team. We love 'em too! We're welcoming back some outstanding – and we really do mean OUTSTANDING – musicians to the Kirkgate stage this autumn. They'll be tuning up and waiting for YOU on these dates:
9 October – Peter Hudler's Cello on Fire – from Baroque to Rock
24 October – Le Vent du Nord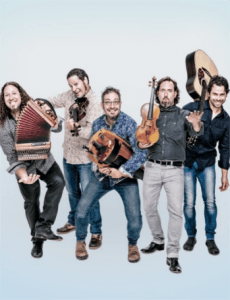 12 November – Talisk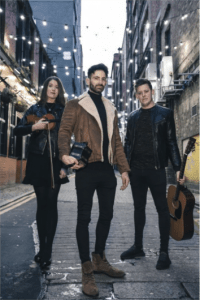 And there are two amazing child (5+) and family friendly musical shows in October half term:
October 26 (11.30am and 2pm) – Same, Same But Different – a playful and colourful world of dancing.
October 28 – Ensonglopedia of the Human – musical science for kids (and their adults)!
Book your tickets here
---
Arts Out West
Hooray! Our Arts Out West shows are coming back to village halls and community centres the length and breadth of West Cumbria. The venues hosting the touring performers to put on a great night out within walking distance of home this autumn are:
The Settlement, Maryport
Brigham Memorial Hall
Lindow Hall, Bowness-on-Solway
Florence Mine, Egremont
Muncaster Parish Hall, Ravenglass
Loweswater Village Hall
Gleaston Village Hall
Ullock Village Hall
The Gather, Ennerdale
Kirksanton Village Hall
Globe Hall, Ireby
Check our website for all the details and booking https://thekirkgate.ticketsolve.com/shows
There really is something for everyone and all ages.
What people have said about some of the shows earlier in their tours:
"One of the most joyful, celebratory and hilarious experiences of my life"
"Utterly wonderful, moving and hilarious"
"A powerful, intense and gripping production that transformed our village hall into a window onto the landscape"
"Excellent evening"
Thanks to Arts Council England, Cumbria County Council and Copeland Community Fund for the grants that makes it possible for Kirkgate and the village hall volunteers to organise these events.
---
Kirkgate's fresh take on street markets
Kirkgate Summer Market on 7 and 21 August was a huge success even if the August weather was more than a little soggy!  We hosted nearly 2,000 people browsing the stalls of the 30 or so creatives and enjoying our café, raffle, Pimm's, beer and live local musicians providing the sounds of our Cockermouth summer.  A wonderful atmosphere with wonderful people.
---
Kirkgate Summer Exhibition
Our Summer Exhibition celebrating our people and our town ran for two weeks in August, attracting locals and holidaying visitors to the Kirkgate to find out about Dorothy Wordsworth and Cockermouth during her childhood, with a second display covering the history of markets in the town.
As a Market Town, Cockermouth was put on the map way back in 1221 when King Henry III granted a charter permitting farmers and merchants to sell their wares in the area below the castle that is now Market Place. 800 years later the buying and selling in town continued when the making and merchandising spirit was on show at our own outdoor Summer Markets last month.
We held a special event to bring local organisations together one Sunday afternoon at the Dorothy exhibition and it was good to see members of the current generation of the Wordsworth family there too as honoured guests. Susan Wordsworth Andrew, great, great, great grand-daughter of William and 4x great niece of Dorothy, joined us from Rydal Mount near Grasmere. The Dorothy exhibition will be touring local village halls over the winter. Thanks are due to our key funders and supporters of this unique celebratory project marking Dorothy Wordsworth's 250th anniversary: National Lottery Heritage Fund, Allerdale Council, National Trust, Wordsworth Trust, Eden Poets and Rydal Mount.
---
Kirkgate History and Heritage by Gloria Edwards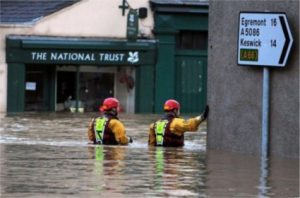 Watching news coverage of devastating floods in New York brought back memories of major flooding in Cockermouth in 2009 and again in 2015.
A delve into the archives shows that Cockermouth has always been at the mercy of its two rivers, the Cocker and the Derwent.  There was a 'prodigious flood' in November 1761, which carried away houses and mills.  Ten years later there was another great flood – William Wordsworth would have been a baby at that time, with Dorothy on the way, living on Main Street with his family. Their garden, right next to the Derwent, would surely have been flooded.
The flood of 1900 was sufficiently newsworthy for a commemorative booklet entitled 'The Great Flood' to be produced, with many buildings again swept away.  1918, 1932 and 1938 saw more flooding, despite efforts to ensure that river gravel was removed on a regular basis.  When the Workhouse was still in operation (it closed in the 1930s), the male residents had to transport cobbles from the river in a handcart, and break them – two bucketfuls in return for bed and breakfast.  The gravel was then deposited on what is now Memorial Gardens.  After the floods of 2015, more flood prevention work was undertaken and it is hoped that this will serve its purpose when called upon, as it undoubtedly will be.
To get involved with the Heritage Group email heritage@thekirkgate.com or volunteers@thekirkgate.com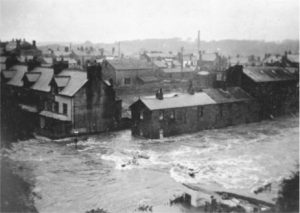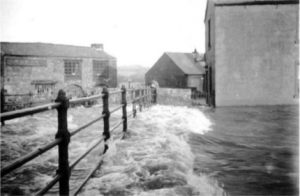 ---
A Day in The Life
The volunteering feature this month is from Bob Pritchard.  Bob is a Trustee of Kirkgate the charity, and a Board Director of Kirkgate the limited company – both voluntary roles. He is a man of many parts. Oh no, he isn't! Oh yes, he is! – read on!
I have been involved with Kirkgate from the Centre's very early days – through the first ten years as a full-time volunteer (or at least it felt like that!). That volunteer experience certainly stood me in good stead when the chance of a paid post with Copeland Council came up, running the West Cumbria Rural Touring Scheme (as Arts Out West was then known). I often described that as the best job in the world, working with enthusiastic village hall promoters, unpretentious artists and inspirational colleagues, with some of the most scenic drives in the country. When Copeland Borough Council decided to outsource this work to Kirkgate Arts I was able to combine looking after Arts Out West with artistic programming at the Kirkgate. Although it didn't feel like it at the time, this was a period of comparatively generous funding from the Arts Council and Local Authorities.
I retired as a Kirkgate employee at age 65 in 2013, and stepped back from direct involvement for three years until being drawn back to serve as a Trustee on the Board. This is not such a hands-on role, so unlike most of our brilliant volunteers, I am no longer spending many hours on the premises, but plenty on zoom calls.
To 'keep my hand in' I've continued to work with a small, dedicated team of volunteers on the Cockermouth Live! festival held annually at the beginning of July, featuring mainly local musicians and performers. Kirkgate is a supporter of the (mainly free) festival and the venue for some performers, including the headline Friday and Saturday night acts, this year featuring sell-out shows by the Bard of Barnsley Ian McMillan with musician Luke Carver Goss, and the Kathryn Tickell Trio.
Covid forced us into a 'virtual' festival last year with remarkable results – a 4 hour You Tube programme featuring many regulars and a few more. This year we were able to be 'Alive Again' but on a smaller scale, and we're now planning for a full comeback in 2022. We'd welcome anyone interested in keeping a LIVELY presence for the performing (and visual) arts in Cockermouth to join us. Drop us an email at cockermouthlive@gmail.com or see our website www.cockermouthfestival.org.
My other involvement with events at the Kirkgate has been with the ever popular Pantomime. Although set design and construction are what I enjoy most, I have been known to tread the boards (when we're desperate!) and I really enjoy working with our young actors and seeing their confidence and competence grow with every performance. Unfortunately, the uncertainties of the Covid situation going forward make it unlikely that we'll stage a panto in January 2022. If you can't fill every seat with people shouting at the tops of their voices, it ain't a panto! But we'll be back.
---
Make Us Your Good Cause
As well as volunteering, there are many ways you can help us with your support. Coming along to our events is the best way possible!
You can donate here: https://thekirkgate.ticketsolve.com/products/donation
You can join our Friends organisation from £20 a year and get involved in fundraising events such as Cock Frock and the Great Big Kirkgate Quiz. https://www.kirkgatearts.org.uk/become-a-friend/
Or – make us your Allerdale and Lakeland Lottery Good Cause.
Tickets for the lottery cost just £1 per week. Each ticket has a 1 in 50 chance to win a prize each week, with a top prize of £25,000.
From every £1 ticket you buy, 60p goes to local good causes in Allerdale and improving the community. 50p of that 60p comes to Kirkgate Arts and Heritage if you make us your Good Cause.
https://www.allerdalelottery.com/support/allerdale
Thank you!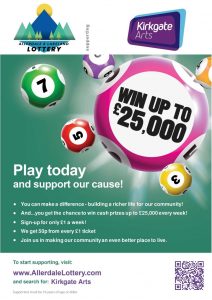 ---
Our Cockermouth
This month, our Kirkgate Quarter family member writing about her Cockermouth is Holly Baker of Goodness and Grain, the refill shop in Market Place.
Goodness and Grain started out as a market stall in Cockermouth in 2018 and turned into a shop last year!
I opened the shop to provide the local community with somewhere to buy organic dried goods without all the packaging. You can bring your own containers and buy cupboard staples plastic free, from rice and pasta to loose-leaf tea, nuts, seeds and snacks. We also stock lots of cleaning and self-care refills and more recently oat milk on tap! Mostly everything in the shop is sold by weight so you can buy as much or as little as you want. I also stock lots of 'green' alternatives to everyday household items.
It's been an amazing year since opening and even though I started the shop during the pandemic, I have no regrets as business has been doing really well. We try and support local farmers too so currently there is a lot of fresh organic produce outside the shop!
I'm always happy to chat about how to cut down on waste and how best to make simple changes to our lifestyles to help combat the rise of plastic and the greater threat of global warming. It's a big task and we can only do so much but bringing some attention to smaller issues sometimes has a snowball effect and before you know it, you've started living in a much greener way!
@goodnessandgrain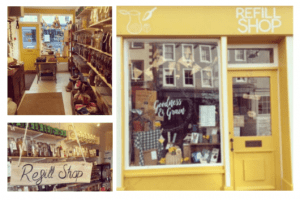 18-26 September is Great Big Green Week – a week of awareness and action focusing our minds on the effects of the climate emergency. Keep your eye on your inbox for details of events at Kirkgate.
---
Letter From The Chair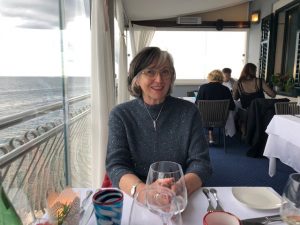 If 2020 and 2021 had to be summed up in one word, 'change' would be a good contender. There's been chopping and changing, with hints of the hokey cokey. Sadly, there've been lots of changes for the worse but also some changes for the better. These past 18 months have certainly brought home to us all that, in life, as Carly Simon said, nothing stays the same.
Kirkgate is changing too. The Board of Trustees decided that opening up again as we had been before we had to close was not an option. We wanted to develop what we offer to the community and relaunch Kirkgate. Although social distancing limited how many people we could accommodate, we have been trying out new things – our outdoor community cafes, Friday Night is Pizza Night, August's Kirkgate Summer Market and Summer Exhibition, our Dorothy Wordsworth project, all with encouraging results.
The bar has moved downstairs to the Egremont Room to great effect, we're overhauling our website, publicity and marketing (you might have caught us on BBC Radio Cumbria's shows), we've started this monthly newsletter, there has been an increase in film screenings. Now, some fabulous live music is coming back and audience capacity will soon be back to normal. All this and more has also meant changed ways of working for volunteers and staff as we have opened up again. So far, we are encouraged that Kirkgate has proved its worth to our community and is attracting people back, with many coming through the red door for the first time. We're grateful for everyone's support.
This has all meant that we needed to restructure the staff roles. We recognised that we needed a full-time General Manager to lead the developments and take the organisation forward across the board. Unfortunately, this has meant that Chris Bridgman, who has done such a great job as Artistic Director in recent years, will be leaving us at the end of September. Chris has done a lot of exciting work bringing touring and local theatre companies, and diverse music and dance acts to our stage, and we certainly aim to maintain this legacy especially through Arts Out West and the Cumbria Family Arts Network. We want to thank Chris for his service to our audiences and wish him well for his next move.
Joining us full-time as General Manager is Emma Heys, who has given amazing support for many years to Kirkgate, first as a volunteer Duty Manager, then Volunteers Coordinator, then Trustee, then voluntary Executive Director over the past year of unprecedented challenges. Emma and the other staff, Katie, Jocelyn and Owen are being joined by Chloe Maitland as our new Community Projects Officer.
Our charity, which was 25 years old last year, will keep moving with the times, providing much-needed entertainment, community and arts experiences and fun in Cockermouth, and the many village halls and community centres of West Cumbria that host Arts Out West. I know Emma, her team and the volunteers who welcome you to the Kirkgate and your nearest Arts Out West hall will be very pleased to see you coming through the doors. That community spirit will never change.
Marion Bowman
Chair