Coronavirus restrictions sadly halted our planned display for the Wordsworth commemoration in April at the Kirkgate Centre, together with the publication of an accompanying book on Georgian Cockermouth.  VE Day commemorations in May were to have included a display at Cockermouth Library.  Instead we contributed to Allerdale Libraries' online display, providing images and text about the town's experiences during WWII.
OTHER NEWS AND EVENTS
June 2022 marks the Queen's Platinum Jubilee, and a display is planned for the weekend of 4th June.  We need memories from people who remember the events of previous Jubilees, (Silver, Golden, Diamond) or the Queen's Coronation.  We also need photographs from those events – maybe street parties, or school events – that we can copy and use in the display.  If you weren't around at the time, how about your elderly relatives? We will look at some of the benefits that came to Cockermouth as part of the commemorations for Queen Victoria's Jubilees in 1887 and 1897.
We are finalising a new book on Georgian Cockermouth.  This book will examine Cockermouth at the time of William Wordsworth's birth.  Look out for our announcement of its publication.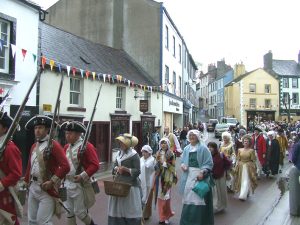 Costumes used in past Georgian Fairs in the town are available now for hire by groups and individuals.  Please see Resources for details.
Under Links: for those interested in Roman history and archaeology see the link for remains in Papcastle, discovered during recent digs.  The Grampus Heritage website has photographs and information about the digs and discoveries made.  Anyone interested in taking part in any future digs can also make contact, via their website, with the person in charge of the project, Mark Graham.  The Grampus Heritage website also has information about other digs in Cumbria and further afield.