BECOME A FRIEND
Become a Friend for £30 a year and enjoy special benefits whilst supporting a vital organisation in Cumbria.
All of our Friends receive:
Free ticket exchange, or credit/refund, if you book tickets and are unable to attend
Exclusive invitations to Friends social events
Regular additions to the monthly Kirkgate Chronicle, with more behind the scenes info!
T&Cs: Your membership runs for 12 months from the date of issue. Please note that these are minimum donations. If you'd like to donate more, please feel free to do so.
Becoming a Friend is Easy
Joining us couldn't be easier. Either join online or call our box office (answerphone out of hours, do please leave your name and number and we will call you back) on: 01900 826448.
You can also email us here.
DONATE
We love our Victorian home at The Kirkgate Centre and hope that you do too.  However, time and heavy use take their toll. We work hard on essential maintenance and have costly major improvements in our sights. Please help us by donating here Ticketsolve – The Kirkgate.  No amount is too small.  Thank you so much for all your help and support.
If you would like to make a regular donation to support our work you can download a Word version of our standing order mandate and gift aid declaration here, if you would prefer a pdf of the document please click here.
Another way to donate is by making Allerdale and Lakeland Lottery your Good Cause. Tickets for the lottery cost just £1 per week. Each ticket has a 1 in 50 chance to win a prize each week, with a top prize of £25,000.
From every £1 ticket you buy, 60p goes to local good causes in Allerdale and improving the community. 50p of that 60p comes to Kirkgate Arts and Heritage if you make us your Good Cause. Click here to support us. 
NAME A SEAT
How do I 'Name A Seat'?
It costs £150 to name one of our seats, support the centre and become a part of Kirkgate's development and story. We have a number of seats still available. If you would like to reserve the naming rights on a new seat, please email us here.
ADVERTISE WITH US
If you would like to promote your business, or advertise your event, while supporting Kirkgate Arts & Heritage, get in touch to ask about our cinema advertising offer here.
DO YOU WANT TO PERFORM?
We are pleased to accept bookings from all performers. Please email us here.
VOLUNTEER
Here at Kirkgate Arts and Heritage we operate with a tiny staff team and a huge group of enthusiastic volunteers. Without our volunteers we would not be able to provide the services we do to the community. By volunteering with us you will be part of a friendly team, meet a wide range of people who you may not encounter in your day to day lives and help us to continue to be a vital part of the community.
The volunteer roles with us are many and varied, from serving drinks behind the bar to assisting our operations manager with maintenance, researching local heritage, contributing to the marketing and comms team or introducing live acts to our audiences. All our volunteers receive training and support. Take a look at our film about volunteering with Kirkgate: 
Our aim is always to match volunteers to the role that suits their availability, skill sets, personality and physical abilities best. If you are interested in volunteering with us please get in touch and we can talk about all our opportunities. Email us here.
We would also welcome additional help with Kirkgate's Cockermouth Heritage Group. We are looking for volunteers to help us gather information, catalogue our collections, organise our outreach events and curate our exhibitions.
If you would like to know more about the various positions, please email us here. You can also see much more detailed information about volunteer roles here.
PARTNERSHIPS
Kirkgate loves working with local businesses.
Friday night is Pizza Night.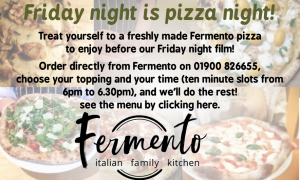 We collaborate with local pizzeria Fermento Italian Kitchen every Friday night film night.  You can order your pizza from Fermento and we will collect your pizza and have it delivered to your table at our Egremont Room bar prior to film screening. Delivery time slots – every ten minutes from 6 to 6.30pm.
If you would like to collaborate with us please email us here.
Magic Mountain Pizza
Lulu, the Magic Mountain Pizza van, can be found outside the centre every Tuesday evening in the warmer months. Order your pizza in advance via social media, or the number on the website, and collect at the van. You can view the menu on their website here- magicmountainkeswick.com/