Welcome to #Kirkgate's June newsletter. This month we're focusing on some of the other ways we have fun, and what we're proud of, when we're not showing films or hopping at gigs in our theatre.
#Kirkgate is a lot more than just an entertainment venue. The Centre is a key part of what makes our area tick. We're also Kirkgate Arts Out West, putting on shows at village halls all over the place and running projects that provide activities for all kinds of people. We also support a vast range of other local organisations and businesses.
FUN!
Cockfrock, our sustainable pre-loved fashion event, came back in style in May and now, keeping up the environmental theme, we're encouraging you to BE MORE DOROTHY!
Join us at the Kirkgate Centre on Sunday, July 3 during Cockermouth Live! festival for the finale of our year-long Dorothy Wordsworth project #IAmDorothy.
We've been celebrating 250 years since the writer and environmentalist was born in Cockermouth at what is now Wordsworth House, Main Street.
GET A LOAD OF THIS! (2-4pm)
• Marvel at the Giant Dorothy Portrait – we commissioned 120 Fairfield schoolchildren, plus artists Artfly, to make stunning images of Dorothy using 13,000 stickers.
• Be dazzled by the Sparkles of Light – display capturing Kirkgate Youth Theatre's Dorothy-inspired 2021 production with photography by Chris Lewis (Cockermouth) https://www.chrislewisphoto.co.uk/p774663653
• Wonder at old Cockermouth in Dorothy's time – exhibition from our Heritage Group volunteers
• Be amazed by the Dorothy Light Sculpture – a portrait in light and words that we commissioned from Artfly (Ulverston) for Cockermouth's 2021 Christmas lights https://artfly.io/
LIVE IN THE THEATRE! (2.55 – 4pm)
• Film: Make The Journey – we commissioned this from John Hamlett (Kirkby Lonsdale), following Dorothy's life journey from Cockermouth to Rydal https://kirkgateartsandheritage.org.uk/make-the-journey/
• Poetry from those who've made Dorothy's journey from Main Street to Rydal
• Music from Seven Sisters inspired by Dorothy's journals
• Special Performance by locally-based professional actors Toby Gaffney and Emma Rydal, inspired by creative writing from the children of Lorton and All Saints primary schools
The #IAmDorothy project has been supported by National Lottery players through The National Lottery Heritage Fund with additional funding from Cockermouth Town Council, Allerdale Borough Council, Ashley Family Foundation, Metalcraft, Slater Family Trust and Arts Council England. We are very grateful to them all.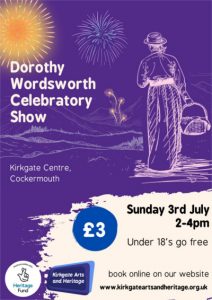 KIRKGATE HISTORY AND HERITAGE
The Dorothy finale gives us an opportunity to reflect on the life of a woman mostly recognised as sister to a famous Romantic poet, William Wordsworth.
But how should we remember Dorothy now, and what is her legacy? That she was an indispensable support to brother William is beyond doubt.  She created a peaceful, ordered existence in which William could thrive in his literary ambitions.  More than that, as an extremely well-read woman, she and William would discuss his work, Dorothy acting as a sounding-board, and someone who could bring new perspectives to his ideas. It was Dorothy who would write up his work prior to it being sent off to publishers.
An important part of their life together was regular and lengthy walks, soaking up the beauties of the natural world around them.  Dorothy recorded descriptions of intense beauty, sensitivity and empathy in her Journals, which William often made use of in his own work.  Dorothy's description of daffodils is reflected in William's own poem 'Daffodils', produced some two years after the walk that inspired it:
I never saw daffodils so beautiful they grew among the mossy stones about & about them, some rested their heads upon these stones as on a pillow for weariness, & the rest tossed & reeled & danced & seemed as if they verily laughed with the wind that blew upon them over the Lake. They looked so gay ever glancing, ever changing …        
15 April 1802
Dorothy was an accomplished writer in her own right, as the Journals show. She also produced her own unpublished poetry, and a travel account of a tour made of Scotland with William (not published until 1874).  Her account of climbing Scafell Pike in 1818 was subsequently used by her brother, and later by Harriet Martineau (1802-1876), who is thought of as the first woman sociologist and who died at Ambleside. Dorothy was uncredited by them.  One is left wondering just how much more Dorothy might have been capable of in different circumstances.
The poet Lynn Peters has contemplated why Dorothy did not produce even more of her own work in this amusing poem:
Why Dorothy Wordsworth is not as famous as her brother
I wandered lonely as a…
They're in the top drawer, William,
Under your socks –
I wandered lonely as a –
No not that drawer, the top one.
I wandered by myself –
Well wear the ones you can find.
No, don't get overwrought my dear, I'm coming.
I wandered lonely as a –
Lonely as a cloud when –
Soft-boiled egg, yes my dear,
As usual, three minutes –
As a cloud which floats –
Look, I said I'll cook it,
Just hold on will you –
All right, I'm coming.
One day I was out for a walk
When I saw this flock –
It can't be too hard, it had three minutes.
Well put some butter in it. –
This host of golden daffodils
As I was out for a stroll one –
Oh you fancy a stroll, do you?
Yes all right, William, I'm coming.
It's on the peg. Under your hat.
I'll bring my pad, shall I, in case
You want to jot something down?
https://www.lynnpeters.co.uk/home/poems/
Gloria Edwards, Heritage Group


QUEEN@KIRKGATE
From a woman who deserves to be better known to probably the world's most famous woman – Queen Elizabeth II. Over the Jubilee weekend we were a hive of activity celebrating Her Majesty's 70-year reign.
We presented the Heritage Group's exhibition of artefacts and images from the 1887 Queen Victoria Golden Jubilee right through to the present day over the four-day weekend, with free entry. A special illustrated talk drawing on the exhibition attracted an eager crowd.
We hosted Cockermouth Town Council's special Jubilee concert, Music Through Her Reign on the Friday night. An evening of live and local musical entertainment featured songs from the last 70 years, performed by Cockermouth musicians and singers of all ages.
They included Cockermouth School students, John Moyes and Brian Melville, Emily Bailey, Cockermouth Mayor and Kirkgate Trustee Councillor Andrew Semple, The Castlegate Singers, and Richard Bennett.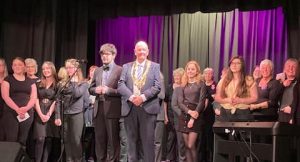 ART SHOW BY COCKERMOUTH TEENS
In late May we showcased work by talented young artists from Cockermouth School with a special end of year exhibition, free to the public.
The exhibition 'Step Aside Words!' was inspired by the power of art to express what often cannot be put into words. 'The last few years have given us all a unique experience that is sometimes difficult to put into words,' said Nicola McMullen, the school's Head of Art, 'so we're saying "step aside words and let the art tell our stories"'.
The exhibition was a collection of work from students who are still studying or recently completed their education at the school. Every piece is unique with an underlying common focus on how the students each experience life, be it with family, in nature, physical or metaphysical.


Lots of positive feedback from visitors to the exhibition…
'wow, so talented' Emily Bailey (local artist)
'they're fabulous!', 'VERY talented', 'Wonderful'
Plus one customer couldn't believe they weren't from professional artists!
A DAY IN THE LIFE
A big part of how much we're rooted in the community comes from the over 80 volunteers who work with us in a range of roles in Cockermouth. Then there are even more volunteers in the community venues across West Cumbria who help us put on Arts Out West shows and activities.
Each month in the Kirkgate Quarter Chronicle we feature one of them, to give readers a flavour of who we all are and what volunteering means for us. Our volunteer of the month this time is David Atherton, who approached us with a view to bringing regular jazz gigs back to the centre.
Dave writes: Jazz – a word to frighten off a lot of people, but lots of popular music comes from and is influenced by jazz and blues of course. I only got into jazz in the 1990's when I lived in a village in Cheshire because there was a theatre nearby, which I could walk to, and, most importantly, it had a bar 😊
I was certainly very "disoriented" when I first heard the likes of Bebop but I soon got used to some great sounds and excellent musicians.
Jazz@davenham went from strength to strength, averaging approx 60 , over 10 years, in a venue holding around 75. I'm sure lots of the people who came didn't really care for jazz but, like me, they soon got hooked (and there was always the bar!)
I'm married to Margaret and we have a son and daughter-in-law who have lived in lovely Cockermouth for about 17 years, hence the move. I contacted the Kirkgate about putting on some jazz. They were very supportive and we have our 6th gig in June. Hopefully we have been able to keep the quality high as I've made lots of contacts over the years.
I try to play golf 😫 (locally) and also like to take pictures – especially quirky "street type" photos and to this end I've spent a little time in the likes of Havana, Morocco, India and even Chernobyl. One of the photos here is of me being "shredded" by sand and gales in Harris, Scotland, last year!
Enjoy the music!
Dave Atherton


Why not join our team?
If you would like to be supported and trained in taking on interesting and rewarding new challenges as a volunteer, please get in touch for more information. Contact volunteers@thekirkgate.com
You can see a little film with some of our volunteers here:
https://www.youtube.com/watch?v=RNKX24goO2M
@Home@Kirkgate
Many local businesses and community organisations regularly hire our facilities for their activities and in each KQC we feature one of them. This month it's the troupe of daring martial arts devotees under the expert tuition of E.S.K.K Martial Arts & Fitness. Chris Denwood tells us more…
E.S.K.K Martial Arts & Fitness began in 2004 as a small karate club based in Arlecdon, comprising only a dozen original members. Over the years we have gone from strength to strength, to become one of the most respected and recommended groups in Cumbria, with a growing national and international profile for providing high-quality training and dedicated commitment to all our members. We currently have clubs serving Whitehaven, Workington, Egremont, and Cleator Moor as well as Cockermouth.
We offer a range of classes, workshops, and personal training options for the whole family – juniors from 5 years and up, teenagers and adults of all ages and abilities. We also deliver self-protection and personal safety training, including ladies- and juniors-only courses. We actively participate in regular fundraising activities and are extremely passionate about sharing the amazing benefits of martial arts and fitness training across Cumbria.
I'm the Chief Instructor and work all over the world. I've held a black belt for over 30 years and have been inaugurated into the Martial Arts Combat Hall of Fame. We are one of only a few groups here in the UK to share our particular style of karate and are regular visitors to Okinawa, Japan (the birthplace of the art).
Come and try Okinawan Karate with us at the Kirkgate Centre on Wednesday evenings. You can find out more and book a free taster class at www.eskk.co.uk
Whether you are a business, a voluntary organisation or a local resident looking for the perfect place to hold your activities, parties or events, please get in touch with our Operations Manager Katie Gentry on katie@thekirkgate.com or phone 01900 829966. There's more information here: https://kirkgateartsandheritage.org.uk/venue-hire/
BECOME A FRIEND OF KIRKGATE
Do you think it's important to have an organisation and venue like Kirkgate that does so much to add to life in our area? If you do, you can help to support us in the work that we do for the community by joining our exclusive Friends organisation. From £20 a year you will enjoy various benefits as a Friend:
Free ticket exchange if you book tickets for shows and are unable to attend
Priority invitations to special events
Occasional newsletters updating you on future plans and new developments at Kirkgate Arts and Heritage
Join here: https://www.kirkgatearts.org.uk/become-a-friend/.
Our Cockermouth
Each month we hear from a member of the wider Kirkgate Quarter family. This month we chatted to Emily, just over the road at Seth's Bar.
I've been running Seth's with my friendly hardworking team for around six years now. We're a tight knit team, and always support each other and get a good vibe going in the pub together. I was manager for a few months before that, and when the previous owners made the decision to move on I jumped at the opportunity to become my own boss. There's a great atmosphere here, always someone interesting to have a craic with, whether it's one of our regulars or a visitor just passing through. Plenty of stories to swap! Because of the friendly atmosphere everyone feels equally at home at Seth's, from students to pensioners, whatever your walk of life you'll be welcomed.
We have a global selection of beer, and a broad variety of wine, as well as our famous cocktails! I really enjoy trying out new cocktail ideas (if you time your visit well you might get to taste test new creations!) and to make sure you don't get peckish we also have fresh homemade pizzas and nachos on offer. We'll be hosting some of the Cockermouth Live musicians again this year, we occasionally have bands or solo artists in to entertain, but with the events of the last couple of years that's taken a back seat to making space for people to feel comfortable being out and about.
When not busy behind the bar I like to spend my spare time working with horses. Horse riding has always been a passion of mine (being just six years old when I started riding regularly), and before working in the hospitality industry I attended the prestigious Hartpury College with the horse I had trained from the age of 12, Captain. We won many competitions, although if he wasn't in the mood sometimes the courses would suffer, with jumps being trashed on the way round…
We're in the perfect spot to grab a cheeky cocktail on your way to visit the Kirkgate, or after a show. Pop in and say hello!


WHAT'S ON
We are now filling our programme of films, music, theatre, live-streaming, workshop activities, poetry and more all the way through to December!
There's always a lot on at Kirkgate and Arts Out West venues with something for everyone: daytimes, evenings, weekdays and weekends. Search our website by category or date to find what tickles your fancy www.kirkgateartsandheritage.org.uk, follow us on Facebook, Twitter and Instagram @Kirkgate. We'll keep you up to date as we add new shows – make sure you subscribe to our fortnightly what's on listings https://kirkgateartsandheritage.org.uk/sign-up-for-news/
TOP TIPS – MUSIC
Our Jazz season, Jazz@Kirkgate, has been pulling in a regular new audience of music fans looking for virtuoso entertainment from some of the scene's top names.
The next show is the wonderful John Ellis Trio – a not to be missed date on June 26 amongst our other hot music picks.
Jazz@Kirkgate – the John Ellis Trio, Sunday June 26 7.30pm
The Beatles Rooftop Concert: Get Back (film) – Monday 27 June 8pm, and Wednesday 29 June 2pm
Gigspanner Big Band – This year's Cockermouth Live headliner, Saturday July 2 8pm
TOP TIPS – CINEMA
The Kirkgate shows the regular weekly film on Mondays 8pm, Wednesdays 2pm (socially distanced seating) and Fridays 7pm with live-streaming and event cinema screened at other times too.
Friday night is also Fermento Pizza Night, with piping hot, freshly made deliveries to the Kirkgate bar from the Market Place eaterie. Order direct with Fermento on 01900 826655 once you've bought your film ticket.
Upcoming highlights feature the best of British talent including Ralph Fiennes, Colin Firth, Kelly Macdonald, the Downton Abbey cast, Jodie Comer and Mark Rylance.
Check details for all upcoming shows here: https://thekirkgate.ticketsolve.com/shows
General Manager's Letter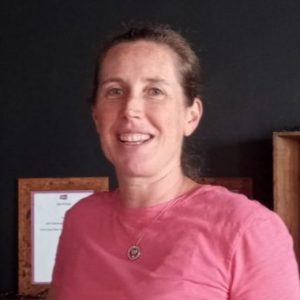 I really do believe that what we do at #Kirkgate – the arts, entertainment, local history and community activities – is for everyone and we do so much sometimes it really pays off to check our website regularly so that you don't miss anything.
It has been good to see so much variety filling our spaces recently and so many different people enjoying it all. With school-age children of my own, I've been particularly pleased that we hosted the exhibition of the young artists from Cockermouth School. It gave the general public in town a great opportunity to connect with the creativity, imagination and skill of our young people and how they see and experience what can often be a challenging world for them, especially during the Covid years.
Art is for everyone and is an important part of expressing what it means to be human and making sense of life. Seeing the art that young people make can inspire us all to have a go too. The work that the children of Fairfield, All Saints and Lorton primary schools made in our #IAmDorothy project – from portraits Andy Warhol could have done to creative writing that would have impressed Dorothy Wordsworth herself – was fabulous and I really urge you to come along and get a taste of it at our July 3 Dorothy day.
Some of the road signs that people pass at the entrances to Cockermouth do point out that we are the birthplace of Dorothy as well as William but she is still not as well-known and deserves to be. Hopefully our wide-ranging project will have expanded people's knowledge and appreciation of Dorothy Wordsworth so that she becomes just a bit more famous than Lynn Peters suggests in her amusing poem that Gloria Edwards has introduced us all to in the KQC this month. We're very proud of our people and places and we like to celebrate our heritage here at #Kirkgate.
And finally, on that theme, just a word of congratulations to Cockermouth Emergency Response Group (CERG) who have been awarded The Queen's Award for Voluntary Service. More reasons to be proud of our community!
Emma Heys
emma@thekirkgate.com