Welcome to #Kirkgate's October newsletter. We've got a busy set of offerings all the way to Christmas, a new website is soon to be launched, and our AGM is in November when we'll be setting out some exciting ambitions for the future
Live music hits its stride
Coming up, there are some thrilling, foot-stomping, internationally big-time acts on the Kirkgate stage, which shouldn't be missed.
24 October – Le Vent du Nord
12 November – Talisk
And two amazing child (5+) and family friendly musical shows in October half term:
26 October (11.30am and 2pm) – Same, same but different – a playful and colourful world of dancing *click here to book*
28 October – Ensonglopedia of the Human – musical science for kids (and their adults!) *click here to book*




Kirkgate Out West
Our Arts Out West shows are back in village halls and community centres the length and breadth of West Cumbria, including the Kirkgate itself. With wonderfully entertaining live performances from touring players, a great social night out close to home with friends, family and neighbours can be had at:
The Settlement, Maryport
Brigham Memorial Hall
Lindow Hall, Bowness-on-Solway
Florence Mine, Egremont
Muncaster Parish Hall, Ravenglass
Loweswater Village Hall
Gleaston Village Hall
Ullock Village Hall
Kirksanton Village Hall
The Gather, Ennerdale
Globe Hall, Ireby
Check our website for all the details and booking.
There really is something for everyone and all ages.
Films, films, films!
In Cockermouth, our films are on three times a week – Mondays at 8pm, Tuesday matinees at 2pm which are moving to Wednesdays from the start of November (socially distanced seating, and with subtitles) and Fridays at 7pm. The bar opens an hour before the show.
Check out what's coming up on the website and book your tickets in good time.
Friday night is pizza night – order from Fermento in Market Place 01900 826655 and your piping hot 'pie' will be delivered to you in our bar before the film.
And Cockermouth's love of pizzas is growing – check out what Lulu has to offer now on Tuesday nights! Lulu is Joe's van and Joe is Magic Mountain Pizza. We've arranged for them to park up in front of the Kirkgate every Tuesday from 5pm. Lulu is a vintage Citroen van where 24-year old Joe from Keswick creates amazingly delicious wood-fired pizzas. Get your laughing gear round those!

New faces in the team
We're delighted to introduce to you two new members of staff this month.
Joining us as General Manager is Emma Heys, who has been a strong supporter of Kirkgate as a volunteer for many years. Soon after becoming a trustee last year, Emma stepped in on an unpaid basis to temporarily manage the unprecedented situation of the pandemic and lockdown.
When the Board decided to recruit a full-time paid General Manager, several excellent candidates applied and Emma was successful. She has now left the Board to become the driving force taking the organisation into the future with a strengthened staff and volunteer team.
Alongside Emma is another new recruit, Chloe Maitland. Chloe is Community Projects Officer, working on activities involving artists, performers, members of the public, community groups and schools.
Our staff team is completed by Katie Gentry, Operations Manager, Jocelyn West, Finance and Administration Officer, and Caretaking Assistant, Owen Evans. Watch out for our regular newsletter articles featuring our brilliant volunteers!
Chloe Maitland Community Projects Officer
Emma Heys General Manager
Money, money, money – could you join the team?
Have you got a head for figures and finance? We are now looking for even more strength on the Kirkgate team with a key vacancy for a special volunteer, or two people who'd be interested in sharing the role – Honorary Treasurer.
Ideally financially qualified, the Honorary Treasurer/s will support the staff team with budgeting and our financial records and reporting systems, acting as the primary interface with the Board on financial matters.  They will work closely with the General Manager and Finance and Administration Officer, who undertakes day-to-day book-keeping, transactions and banking.
We hope to find candidates who, as well as helping to run a lively and successful community organisation, would also enjoy the challenges of some of the capital developments we are aiming for to make #Kirkgate Fit for the Future.
There are more details on our website or for a confidential chat email directors@thekirkgate.com. Please think about helping us.
A Day in The Life
Every month we feature a volunteer and this time it's one of our youngest, 18-year old William Thompson, who left Cockermouth School this year and trained up as a film projectionist.
William writes:
Now that I'm on my way to the next stage of who-knows-what, studying Film and English at the University of Bristol, I can see, looking back, what a huge part of my life in Cockermouth the Kirkgate Centre has been.
I remember when I was 9 years old attending, rather nervously, the Kirkgate's Young Players for the first time, sitting next to people who I would rehearse and perform alongside for 9 more years to come, who are now some of my closest friends.
Monday's film nights, with the theatre close enough for me to walk, offered my first opportunities to make solo trips to the pictures. Over the years I've caught beautiful and tender films like Deborah Granick's Leave No Trace to others like Peter Strickland's batty textile horror In Fabric, which need to be seen with an audience if only to reassure you that you hadn't imagined it all. I also completed my school Work Experience at the Kirkgate, spending a brilliant week finding out how much goes into keeping such a busy venue going.
However, it was only last year that I considered I could volunteer at the centre. With this thought and my love for film to boot, I couldn't help but become enticed by the fabled role of projectionist.
When I made the suggestion last September, it was during that funny period when we had emerged from the first full lockdown, and we couldn't imagine it happening again. But it did, of course; so, it wasn't until May this year, after my A-Level exams, that I actually began my work here.
Over the small time I've been volunteering, the whole team have made me feel very welcome, and it's been wonderful to properly meet some of those behind-the-scenes folk who I recognise from attending events at the Kirkgate. It's already bizarre to think how clueless I was at my first induction, as the lovely senior projectionists made everything so easy to pick up.
Having enjoyed the role and the responsibility this much, it's been a shame to move away so soon. Regardless, Cockermouth is not rid of me yet, as I'll be hopping back in the holidays ready to step into projecting stints or any other wild misadventure of the kind which I'm used to the Kirkgate Centre throwing at me. It will be a real comfort to return to a community I know so well from time to time, while I try to also find a place in the community arts world of Bristol.
Kirkgate History and Heritage By Gloria Edwards
Last month I talked about floods in Cockermouth, which is the downside of living in a town with two converging rivers, unable to cope with vast quantities of water after days of heavy rainfall.  Yet it is water that was the life-blood of Cockermouth in its industrial days – and back then Cockermouth was very industrial, producing virtually everything it needed within the town itself, as well as being important as a market town.
The town had many mills dotted along the riverbanks, used for a variety of purposes (paper, textiles, hat manufacture, wooden items of all kinds, tanneries, etc.), all long since closed down.  Some of the buildings remain, converted for other purposes (Derwent Mills, Double Mills and Graves Mill, for example). Others, like Fitz Mill in our pictures, have been demolished and virtually no trace remains.
Fitz Mill, on the bend of the River Derwent in the Gote area, opposite the Pump House, was a substantial building, used as a corn mill in 1774. By 1883 it was involved in linen production, and a few years later in the woollen industry; intriguingly, mention is made in the sales particulars of a 'willying house' as well as rooms for carding, scribbling, mule spinning, reeling and twisting.  The building was demolished in the 1980s.
Our second image shows a hot-air balloon, probably late 1800s/early 1900s, on Sandair in front of Fitz Mill, with large crowds in attendance.  This was the balloon flight of Cousin Charley, then Editor of the West Cumberland Times.  Cousin Charley (aka William Bleasdale) introduced a magazine specifically for children in the town, with competitions, letters, poems, pictures of local children and articles.  An important part of it was the Santa Claus Scheme, raising funds to give much-needed Christmas parcels to poor children.
To get involved with the Heritage Group email heritage@thekirkgate.com or volunteers@thekirkgate.com
Make Us Your Good Cause
As well as volunteering, there are many ways you can help us with your support. Coming along to our events is the best way possible!
You can donate here: https://thekirkgate.ticketsolve.com/products/donation
You can join our Friends organisation from £20 a year and get involved in fundraising events such as Cock Frock and the Great Big Kirkgate Quiz. https://www.kirkgatearts.org.uk/become-a-friend/
Or – make us your Allerdale and Lakeland Lottery Good Cause.
Tickets for the lottery cost just £1 per week. Each ticket has a 1 in 50 chance to win a prize each week, with a top prize of £25,000.
From every £1 ticket you buy, 60p goes to local good causes in Allerdale and improving the community. 50p of that 60p comes to Kirkgate Arts and Heritage if you make us your Good Cause.
https://www.allerdalelottery.com/support/allerdale
Thank you!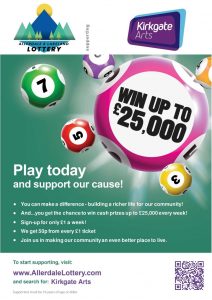 Black History Month
Every year, October is #BlackHistoryMonthUK. The focus on the stories of Black Britons provides an opportunity to learn more about the long history of the contributions that minority ethnic people have made to our national and local heritage and culture. The celebrations can also help in the fight against prejudice and racism.
One fondly remembered local character often springs to mind – Cec Thompson (1926 – 2011), a former Workington rugby league star who was the second Black player to be capped by Great Britain. Cec was originally from Co. Durham, born to a local miner's daughter and a Trinidadian father. He ran a successful window cleaning business in West Cumbria employing over 600 people and went on to graduate in Economics at the University of Leeds.
A great resource for finding out what's going on in Cumbria during the month is www.antiracistcumbria.org. Of particular interest this year is the exhibition that the Rum Story at Whitehaven has put together with Anti-Racist Cumbria featuring notable and influential Black Cumbrians. The exhibition runs to the end of the month.
And if you've ever wondered why delicious ingredients such as dried tropical fruits, ginger and rum feature so much in traditional Cumbrian fare, then check out the recipe and the origins of Cumberland Rum Nicky here BLACK HISTORY MONTH: Cumberland Rum Nicky Recipe and History. : Anti Racist Cumbria and get baking!
Our Cockermouth
Each month we hear from a member of the wider Kirkgate Quarter family.  This month, Adam Stitt of 4Play Cycles in Market Place tells us his Cockermouth story:
I was working in bike shops around Liverpool and decided it was time for a change. My parents had a guest house up here so I originally set up cycling holidays. Then we got foot and mouth, there were no visitors to Cumbria but people were bringing bikes to my home in Aspatria to be fixed.
I'd done bike shops all my life so we decided to open a shop and for a few years we were in Kings Arms Lane off Main Street but we outgrew it – we actually had to work on the bikes outside it was so small – and we moved here to Market Place 16 years ago.
We were allowed to remain open during the lockdowns. People wanted to use their bikes instead of public transport and for health and fitness and leaving their cars behind. It was quite funny. Town was like a ghost town with us being the only beacon of light. Just about every man, woman and dog decided they were going to cycle! Every aspect of cycling has seen growth in our eyes. We've seen more and more people switching to e-bikes. I've seen people's lives improve through e-bikes and I'm really proud to be a part of that. Seeing more people out of their cars and on bikes can only be a good thing.
Since then it's been quite consistent but we haven't had the stock to do our job properly.
There's a shortage of components, there's a shortage of bikes, the supply chains are broken, there isn't enough shipping. Every day is a lot harder than it normally is because we spend most of the time searching for stock just to keep people's bikes on the road.
I love Cockermouth. It's a great little market town. It's a beautiful place to work. I'm very fond of Market Place. I love it when we get new shops. I was very sad to see The Floral Boutique go, because we all lean on each other and help each other. I love the idea of calling it the Kirkgate Quarter at this end of town!

Letter From The Chair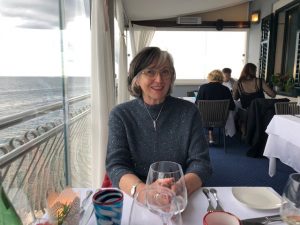 It's very good to see so many of our regular daytime users back at the Kirkgate, from the U3A's Alte Music to the Karate crowd. We have also recently been a venue for the annual autumn artists' Open Studio art trail, Cockermouth Rotary Club's fundraising screening of cult classic Withnail and I, and the Civic Trust's Annual lecture, this year given by Dr Alan Crosby on Cockermouth's Royal Market Charter of 1221.
While Kirkgate is first and foremost an entertainment venue, Cockermouth's cinema and host to live, professional performers, musicians, dance and theatre companies, we are also the base for many local groups, business events and private parties.
And through Arts Out West, we work with umpteen village halls and community centres enabling touring professionals to put on great shows for people in rural areas and small venues that aren't plugged into the bright lights of Cumbria's town centre nightlife.
Sometimes the word 'multi-purpose' doesn't do it justice! On top of shows and events, we are also currently running two long-running projects which are being funded by Arts Council England and the National Lottery Heritage Fund amongst others. The upshot of it all is to try to involve as many people as possible, especially those who don't think that 'arts and culture' are for them. And yet, huge numbers of people actually really like 'arts and culture' whether they think of it like that or not. Maybe it would be better to use phrases like having 'a knees up', 'a laugh', 'a good crack' or 'being amazed'! It's been a long time since po-faced commentators decried The Beatles' music in the 1960s and said that only Beethoven counted.
What's almost more important nowadays is just getting people out of their houses to socialise while seeing a great film or hearing a talk about local history or enjoying being part of a local theatre group or choir.
That's what so great about Kirkgate – we start with our local communities and try to bring people together, keeping it real while offering surprises and new experiences. It can be a challenge, especially after the past 18 months, when people have got used to staying in, but it's encouraging when people want to come and work for us, so we're really thrilled to say 'welcome' to Emma, our new General Manager, and Chloe, our new Community Projects Officer.
Chloe is just finishing off a project she'd been involved in before joining us, researching Kirkgate's role in the community so please help her, and us, understand what you want and need from us by completing her survey here, the survey is running until midnight on Friday.
We'll all do our best to give you endless reasons to come out and enjoy what we have to offer in the future. And if you'd like to know more about hiring the Kirkgate for any events, meetings, parties, conferences, classes or activities you're planning, whether regular or one-off, please do get in touch with our Operations Manager, Katie Gentry, on katie@thekirkgate.com.
You'll also be given a very warm welcome!
Marion Bowman
Chair