Welcome to the October 2023 edition of the Kirkgate Quarter Chronicle.
This month the Chronicle has a guest writer!
If you follow us on Facebook you'll have spotted our Kirkgate Pixie taking over the reins every now and again, with behind the scenes snippets. We thought we'd hand over to our resident pixie (our Operations Manager, Katie Gentry) for October's Chronicle.
PIXIE POWER
Pssst! Kirkgate Pixie here, they've only gone and let me loose with the Chronicle! Ooooh the possibilities for mischief are endless, but I promise to (mostly) behave…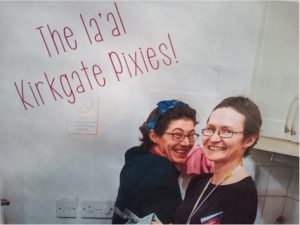 The Kirkgate Centre has a long history of pixie power, behind the scenes, beavering away, squirreling useful things in cupboards, making the place tidy (and sometimes untidy!) and generally working hard in the background to make sure all the events to go smoothly. I got my nickname some time ago, and it truly stuck after this picture appeared in the kitchen!
Taken about seven years ago, the resident pixies at the time (Annie and I) washing up after a volunteer social- in the teeny tiny kitchen upstairs! My, how things have changed!
I started my journey with Kirkgate Arts as a volunteer, over ten years ago. I got in touch with a list of bands that I thought would be great at the Kirkgate and was invited in for a chat. Before I knew it I was in the box office, on the music programming group and helping fund raise! It was around the launch of the 'Friends of the Kirkgate' scheme, with a team of volunteers organising fundraising events, which is where I met Emma (who is now General Manager). I had an amazing adventure as a volunteer with the music group- a trip to the English Folk Expo in Manchester. That's where I first saw the band Spiro live, an incredible experience! I even got to meet Nizlopi (remember the JCB song?) there are pictures to prove it- just scroll down 🙂
The fundraising team put together some incredible events! Strictly Kirkgate, Kirkgate's Got Talent, plus regular themed discos, even a birthday tea party to celebrate 20 years since the Kirkgate Centre opened. We've had casino nights, film events, and Toby still brings us a regular fundraiser quiz. There's a photo below of the 2014 Cockfrock team, you will spot a few familiar faces in there, although the Egremont Room now looks very different (thankfully!). We're now fast approaching our 30th birthday, maybe it's time for some party planning…
After lending my time to anything and everything as a volunteer for a number of years, the time came for caretaker Peter Rothwell to retire. He let me in on all the quirky secrets around the building and I took on the role of operations assistant (aka chief hoofer of chairs and tester of fire alarms). The Kirkgate Centre is a demanding mistress, and she'll throw all sorts of conundrums in the path of caretaking staff. But then she is well into triple figures in age, we have to allow for a certain level of cantankerousness! It didn't take long for that role to grow and since September 2016 I have been Operations Manager at the centre, dealing with everything from private hires to posters, tech to toilet rolls. I've learnt SO much volunteering and working here, and learn more every day in the job.
If you would like to join the team as a volunteer find out more on our website here.
Recognise the chap on the left? It's none other than John Parker! Who is coming to the Kirkgate this month with The Jackie Oates Trio.
UPCOMING HIGHLIGHTS
We're fast approaching the end of October, but there's still lots on!

Music 
Jackie Oates is an award winning singer and fiddle player, on tour this month alongside the superb multi-instrumentalist Mike Cosgrave, and outstanding bassist John Parker. The Jackie Oates Trio will be in Cockermouth on Saturday 28th October at 8pm. Get your tickets here.

For all you budding songwriters, JP Worsfold is running a FREE songwriting workshop with Kirkgate Arts Out West, at Florence Arts Centre on Saturday 28th October– book your place here. He's back with his band for another live performance next month at Florence, look out for that!
Big Screen 
We're currently screening Elemental, our family friendly half term film, and there's still one more chance to catch it on our big screen. Thursday at 10am, get your tickets here.Next up on the big screen is an adaptation of Take That's 2017 stage musical 'The Band'. 'Greatest Days' is packed full of classic Take That tunes, and stars two of the funniest women on screen (in Pixie's opinion!) Aisling Bea and Alice Lowe. Book here.
@HOME@KIRKGATE
We were treated to a spooktacular evening of entertainment last weekend, with 'Fever Drag Cabaret'! Ramona Love and Summer Salt plus a plethora of performers returned for the second of their unforgettable shows. They'll be back again in February so keep your eyes peeled for details! It was an absolute riot of fun and frolics, if you haven't been along to one of these nights yet we recommend you give it a try.
Ewan (aka Summer Salt) is a former Cockermouth School pupil, he's been into the drag cabaret scene for years and last year contacted us with the idea of bringing a show to Cumbria. We weren't sure what to expect, but 'Fever' has surpassed all our expectations! Close to sell out audiences have secured Ramona and Summer's place as part of the extended Kirkgate family. We just love the atmosphere at these nights, naughty but nice- they're a blast!
You can follow them on instagram @fevercabaret.
If you would like to hire the Kirkgate Centre for your event, whether it's a party, performance or private film screening we can help. There is more information on our website.
KIRKGATE HISTORY AND HERITAGE
There are a number of very different events coming up that are part of 'In My Shoes', this Heritage Lottery Funded project brings together stories from our area, celebrating West Cumbria's diverse heritage.
Share Your Story events will be held across the region over the coming months:
Facilitated by Lina Mookerjee BSc MA BACP (Snr Accred.).
Hear local storytellers and spoken word artists.
Share your own experiences and traditions.
Be part of the In My Shoes oral history project and record your stories with our volunteers.
What makes your community unique? What do you take pride in? What are your family traditions? What is your story?
Whitehaven:
Saturday 4th November 2023, 1-4pm
The Beacon, W Strand, Whitehaven CA28 7LY
Maryport:
Sunday, 12 November 2023, 1 – 4pm
The Settlement at Castle Hill, High Street, Maryport, CA15 6BQ
Wigton:
Wednesday, 6 Dec 2023, 10am – 1pm
The Bowling Club, West Road, Wigton, CA7 9RG
Egremont:
Thursday, 18 January 2024, 10am – 1pm
Florence Arts Centre, Florence Mine, Egremont, CA22 2NR
Workington:
Tuesday, 13 February 2024, 10am – 1pm
Northside Community Centre, Trinity Drive, Workington, CA14 1AX
Cockermouth:
Saturday, 2 March 2024, 1 – 4pm
Kirkgate Centre, Kirkgate, Cockermouth, CA13 0PJ
These events are made possible thanks to the support of National Lottery players through the National Lottery Heritage Fund.
We also have an exhibition coming up! The Cockermouth Heritage Group have been working with curator Jenn Bell and our Community Projects Officer, Helen Johnston, to produce 'Shoemaking in Cockermouth'.
This exhibition steps into the history of making shoes in Cockermouth, from the tanneries of the 18th and 19th century to Millers – a shoe factory that arrived in Cockermouth during World War Two and traded in the town for 50 years.
On display from 7th November – 18th November, 11am – 4pm, with a special tea party for former Millers employees on Saturday 11th November at 2pm.
GENERAL MANAGER'S LETTER
KIRKGATE PIXIE'S LETTER….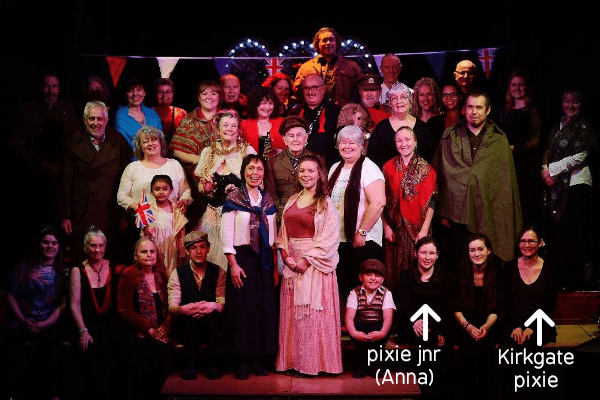 This month's Chronicle is inspired by our stories. Taking a moment, looking back at the path we've walked and looking ahead to where it might lead next. The launch of 'In My Shoes' has made me think about my own story, particularly when it comes to Kirkgate Arts.
I have more links with the place than I could have imagined! I love the tale of my Nana and the lift, you may have heard me tell it already but here it is again…
As I hunted through old documents to research some of the work done on the building, before its opening in 1995, I came across a letter to the previous lift service company. Anyone who is familiar with the centre will know that there were many issues in the past with a temperamental lift! I want to take a moment to reassure you that the lift DOES work, it may be a little slow but it gets there in the end. However, that wasn't the case back in 1995, at an event for wheelchairs users and mobility impaired guests. The event was to celebrate the accessibility that the newly installed lift provided, oh the irony! The letter was strongly worded, and explained that a Mrs Betney had been trapped for some time… The Mrs Betney in question was my Nana! Thankfully now we have a fully operational lift, and the means to perform a much swifter evacuation should it (touch wood!) decide to revert to its old naughty ways!
Another generation of my lot have been regulars at the centre too, my daughter Anna performed with the Jacqueline Evans School of Dance many moons ago (dressed as a puppy for 'how much is that doggy in the window') and has volunteered in lots of different roles over the years. She's in the photo above as part of the stage crew for 'Winter Warmers'. Jeff Wallcook put together a superb show, full of local talent, to brighten up the winter nights back in 2015. Jeff used to run our Youth Theatre sessions, now organised by Tish Thornton (and attended by my niece, Eleanor). Anna and I enjoyed many family shows here long before I became a volunteer, do you remember 'The Man Who Planted Trees'? It was a delightful puppet theatre show, we still have the poster on our wall at home.
Coming to the Kirkgate Centre as a customer, then as a volunteer and now as a member of staff (even on occasion as a performer!) has always been a pleasure. It's the sort of place that is more than bricks and mortar, it's a living breathing hub of community and entertainment and connection. It kept my spirits up when I was undergoing chemotherapy back in 2016, I couldn't do my usual 'hoofing' but I would come in alternate weeks for gentler tasks. I had a huge surprise in August this year, as my partner took the mic from AKA Skafell and proposed from the stage! I'm sure you can see why it's so much more than a place of work to me.
Well that's enough of my waffling! Normal service will resume next month. I hope you can forgive me for taking over the Chronicle to tell you a bit about my story.
Before I go I want you to sit back and take a moment to think about your part in the journey of Kirkgate Arts, whether it's memories of a gig from way back in 1995 or if your chapter is just beginning, as a customer, supporter, artist or volunteer.
We're all part of the story.
Katie Gentry
katie@thekirkgate.com